Million Dollar Babies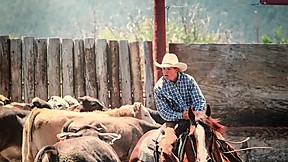 By: Lauren Middleton
With the 2019 Kit Kat Sugar NCHA Super Stakes well underway, we wanted to highlight some of our awesome CHC Trainers! During some recent statistical research of several talented riders, we discovered who was in fact the youngest rider to reach the million-dollar mark in just Open earnings. This is a huge feat for anyone, but to do it at such a young age deserves a little extra recognition. We want to preface this by saying that we have done our due diligence researching these riders along with others, but if there is anyone missed, we will definitely highlight them as well. It also needs to be said that because the purses offered now in our great sport these riders are able to achieve these goals at a young age as a result of hard work and talent. There are many legends that did not reach this mark until much later due to the fact that the money added was not nearly as significant. These riders could not be who they are today without these legends leading the way. Now, here are some of the sport's "Million Dollar Babies."
The youngest rider to reach this goal in just Open earnings was Tarin Rice at the ripe old age of 25. He passed the mark in early 2015 shortly before his 26th birthday. As many who are involved in the sport know, the Rice family is a staple in most of the events year to year. You will more than likely see several of their names in each finals, and in the arena helping each other. This family is close knit and supports each other, making them an extra special aspect of this lifestyle.
Tarin's accomplishments are much too long to list, but he is a past NCHA Futurity Champion as well as claiming several other Championship's in the Will Rogers. One thing that we often remember when thinking about Tarin is the time that he showed in the Youth Scholarship cutting finals with a broken leg. It was known before that point that he would be a standout competitor, but who does that and does an impressive job in that situation? That would be Tarin Rice. He has always been a natural, and with such a wonderful family to lean on and learn from, it is no surprise that he would top this list!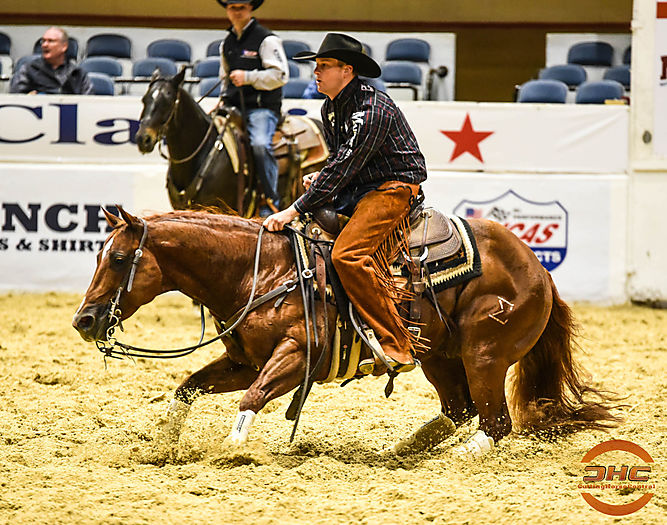 Tarin Rice
Next up is another member of a family that we would consider "Cutting Royalty" as well, Wesley Galyean. He went over the million-dollar mark in just Open money in early 2011 at the age of 28. Wesley won quite a bit of money as a Non-Pro rider before he decided to train horses on a professional level which made him actually cross the million-dollar mark before this point, but we are focusing on the point in which they crossed the mark as an Open rider.
There are many things that stand out about this talented rider, but one thing that must be highlighted is that he was the 2005 NCHA Futurity Champion aboard his own horse, Spots Hot, when he was still a Non-Pro rider and only 21! "Spot" was and will always be a special horse for Wesley, and it is a joy to hear him talk about the now iconic stallion. From the moment he met him in the pasture as a baby, Wesley knew he was something that would impact his life. Little did he know exactly how right he was. This win pushed him up the ranks and has led to more championships in the Will Rogers in addition to countless other Championships throughout his ongoing career.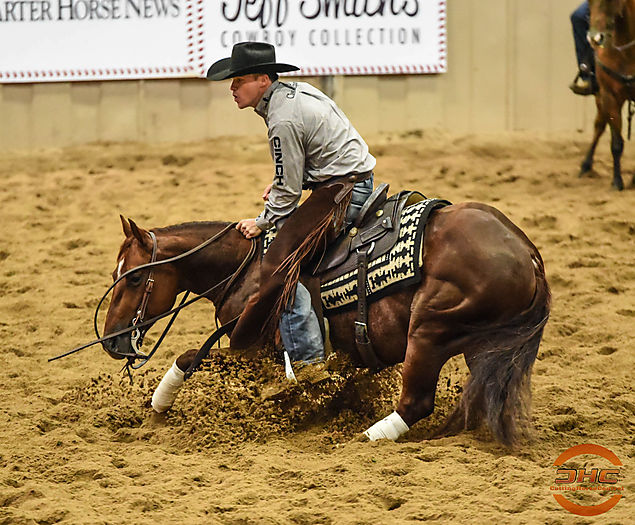 Wesley Galyean
Austin Shepard is our next rider, and, really, he needs no introduction. He has now joined the group of four riders who have surpassed the 8-million-dollar mark! He crossed the first million-dollar mark at the age of 27 in 2005. Austin is now a two-time NCHA Futurity Champion and two-time NCHA Open World Champion. Just like the other riders we are mentioning, he has a long list of accomplishments in the show pen, but a fun fact about him is that at the age of 29 he won one million dollars in just one year! This was thanks to some amazing horses, and, of course, a ton of hard work. This Alabama trainer may have plenty of accolades to his name, but he shows no signs of stopping any time soon. He has already claimed a number of Championships just this year with yet another crop of impressive show horses to boot.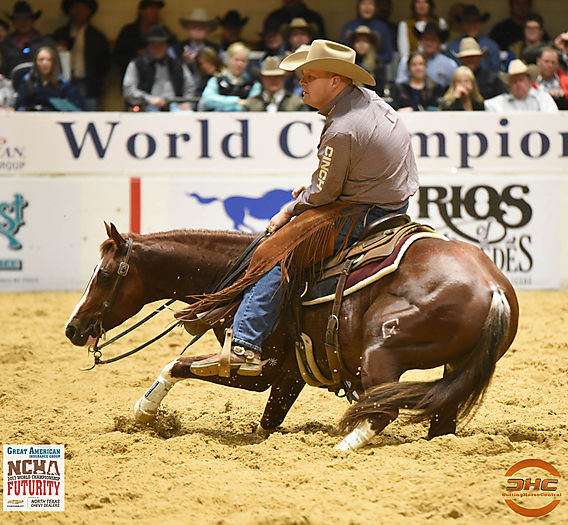 Austin Shepard
Canadian Native trainer, Jesse Lennox, crossed the million-dollar mark at the age of 27. He achieved this goal at the Breeders Invitational riding the incredible mare Cinca Im Hot. Jesse began his career with the legendary Rockin W Ranch. Now, he is the resident trainer for the Rockin P Ranch and has quite the lineup of fantastic show horses. His unique style with the horses stands out allowing him to excel quickly and keep making a statement in the show pen. He has now claimed a number of titles in the Will Rogers as well, and his run aboard Cinca Im Hot at the NCHA Futurity continues to go viral on Youtube among lovers of the sport and people who really have no idea about cutting. It is impressive to watch no matter who you are. He happens to have three horses in the Classic Open Finals to be held next week at the Super Stakes, and of those three, two of them tied to lead the cumulative score for the two go-rounds. A pretty impressive start to the show for this talented trainer.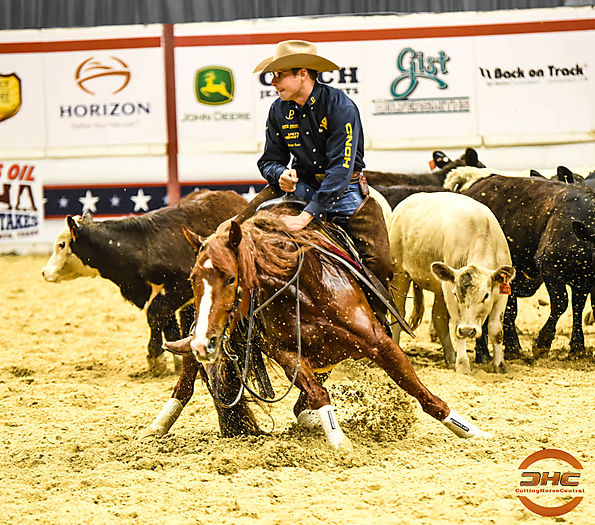 Jesse Lennox
The next rider on our list is Monty Buntin who happens to be NCHA's newest Million Dollar rider at age 27! He passed the mark at a show in Idaho this past month where his mentor and friend Tim Smith made a special announcement about his amazing achievement. Monty has always been an Open rider making all of his earnings only in the Open Division. There are only a few of the riders in this young age group who can say that. One of the things most people remember as the first time they saw this West Coast trainer was when he brought the stallion, High Brow Jackson, to the NCHA Futurity! It was a high-profile horse and a pressure filled situation, but Monty handled it well and truly made a statement letting everyone know he was destined for great things even though those close to him knew that long before. Monty is very passionate about his work and his horses making this feat that much sweeter. He and his wife Tessa support each other through and through as many families in this industry do. Monty is really only beginning his journey in the sport with a fun road ahead!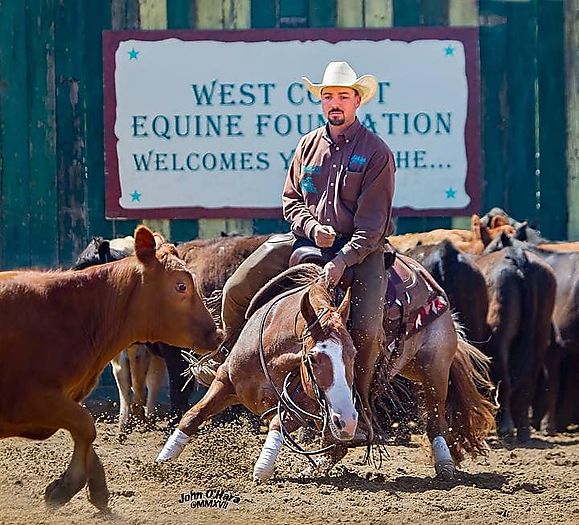 Monty Buntin
R.L. Chartier is another trainer to make his mark early on in his now very impressive career. He has been a NCHA Futurity Finalist multiple times as well as an NCHA Open World Champion! He passed the Million Dollar mark in late 2012 when he was 28. He has ridden horses such as Special Nu Kitty, Fort Worth Pipeline, Crafty With Cows, and, World Champion, A Little Bossy, just to name a few. R.L. also comes from a well-known cutting family that stems from Mel Chartier who owned the legendary stallion, Dry Doc. The Chartiers have been involved in the sport for generations making it only fitting that he has found such success in the sport today. His gutsy way of showing is his signature and takes him to the winner's circle time and time again. R.L. was also one of the go-round leaders headed into the Classic Open Finals at the Super Stakes.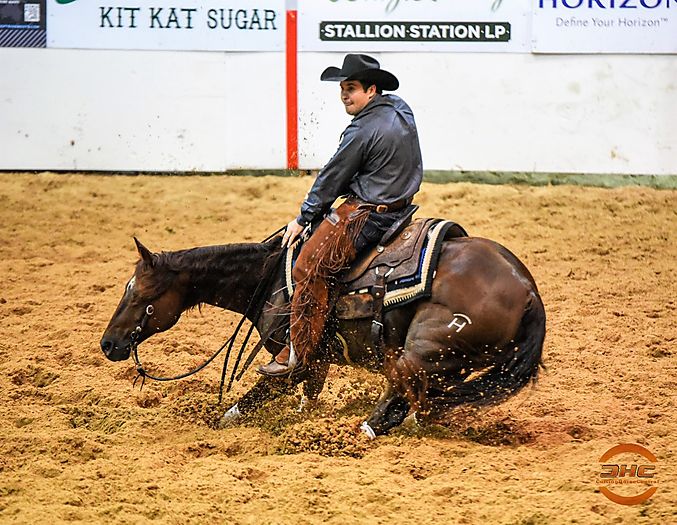 RL Chartier
Morgan Cromer is another California trainer to highlight having gone over the million at the age of 29. She has since accumulated a number of impressive titles including the Classic Open Championship at the NCHA Super Stakes riding a mare that is pretty special to Morgan, Maid Of Metal. This is just one accomplishment for her but as always, a win in the Will Rogers is extra special for anyone. Like Monty, the only earnings Morgan has accumulated are from the Open, and she also went over the million mark in Idaho! That day, Morgan's long-time customer, Julie Clarke, put together a party to celebrate the achievement. You always see Morgan with a smile on her face and working hard to reach not only her goals but also her customers' goals, so it is easy to see why the milestone was celebrated. She has always strived to be a successful cutting horse trainer, and we would say she is meeting her goal with flying colors.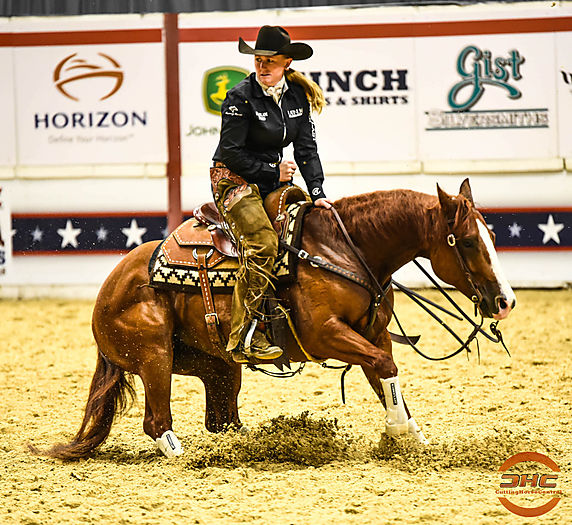 Morgan Cromer
Grant Setnicka continues our list of West Coast trainers even though he is now located in Texas. He achieved his first million in the show pen faster than any other Open rider thus far taking the small futurity scene by storm at the age of 30. He is also the fastest to reach two million, so it is easy to see that when he decided to be a cutting horse trainer he was all in! Grant is another rider with all Open earnings and no prior money in any other class. He began his career being known for training a number of solid small futurity horses year to year, but, as time has gone on, his talent has been even more evident. Now, he has qualified for the NCHA Futurity Finals several times and has claimed a Championship in the Will Rogers aboard a mare he trained, Ichis My Choice, who was also NCHA Horse Of The Year. Grant came to Texas a number of years ago but just recently moved to J5 Horse Ranch in Weatherford, TX.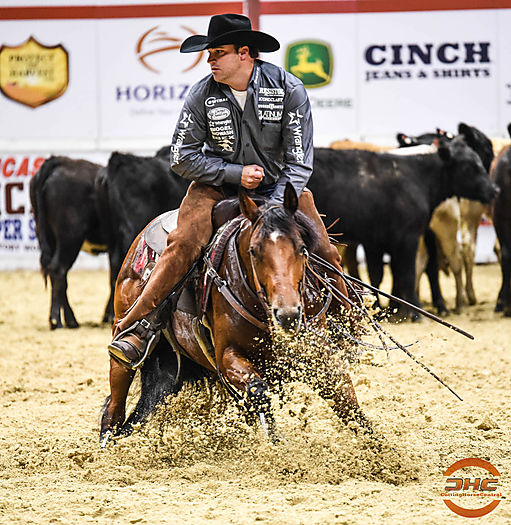 Grant Setnicka
Next up on our lineup is Colorado trainer, Kenny Platt. He has made a huge impact in the show pen in recent years riding several horses, but, when thinking about Kenny, we can't help but remember all of his huge runs on the great gelding, Moms Stylish Player. We thought it fitting to mention Kenny in association with Grant because in all of these big runs Grant was one of his corner help to support him along the way. It even came down to determining a Championship and Reserve Championship between the two at the Super Stakes. Kenny showed after Grant and managed to put together arguably one of the toughest runs in the Will Rogers. He passed the million mark in mid 2016 at the age of 28. Kenny is a favorite to watch because he always has a presence on a horse and he looks cool, calm, and collected in every run no matter how difficult.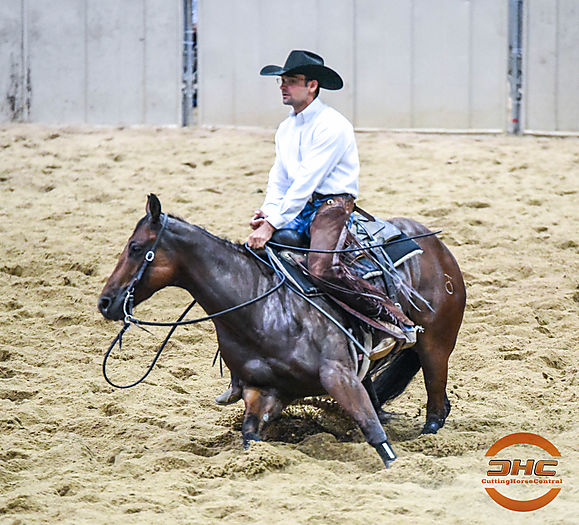 Kenny Platt
Adan Banuelos is next on our list of talented young riders. He passed the million-dollar mark late in 2015 at the age of 27. This past year has been an unbelievable one for him having been the 2018 Open Rider of the Year, winning the first ever Metallic Cat Incentive, and finishing things up being the 2018 NCHA Futurity Reserve Champion. It seems as though things are coming together rather nicely for this young trainer. He and his family are very close as well just like so many in this industry, and they are always cheering on or helping each other. Adan took a short break from the cutting scene but mostly has been involved in the sport his entire life. Many people know he is also very handy at trick roping among other things, but it is obvious that his hard work is paying off in the show pen.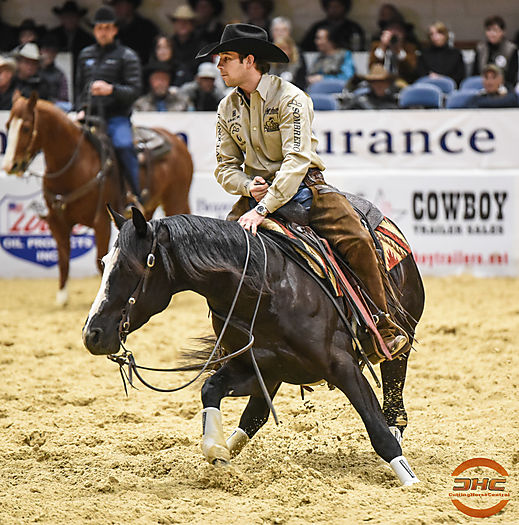 Adan Banuelos
Matt Miller is another rider that has been competing in the sport since a youth. He stayed heavily involved throughout his childhood and young adult life in both the Non Pro and Open level. Matt was one that was hard to figure out exactly when he reached this milestone because he won over $80,000 in Open earnings while still being a Non Pro! He is a past Non Pro Futurity Champion as well riding Travs Scooter, a mare that is still an integral part of he and his wife Megan's impressive breeding program. He crossed the Million Dollar milestone at the Tunica Futurity riding Pepto Smoothy at the age of 28 and since then has claimed countless championships as well as building a fantastic program for himself and his customers. Matt is also very involved in the task of building the sport always trying to make it better for future generations. He has certainly made his mark as these other young riders have in our industry.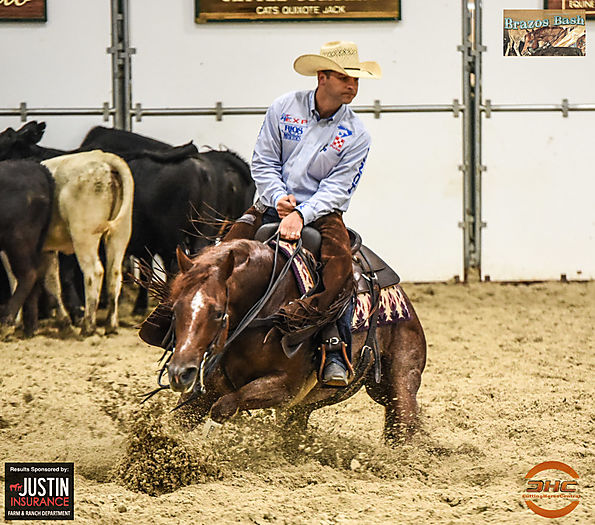 Matt Miller
The final rider on our list is another that needs no introduction, Tatum Rice. He passed the million-dollar mark in lifetime earnings at 29 aboard Snap Crackle Cat at the Arbuckle Mountain Futurity, but, in late 2016, he hit the million in Open earnings right after his 31st birthday. He is another trainer that has had a story book couple of years. He finished the year as the NCHA Open World Champion as well as the NCHA Open Futurity Champion. The stallion Hashtags, who is now known to everyone who has had anything to do with cutting lately, made a huge impact on Tatum. "Tag" allowed him to claim his first Open win in the Will Rogers and his first World Championship. Tatum is already having a record year aboard the mare he won the Futurity on, Crey Zee, and looks to be more confident than ever.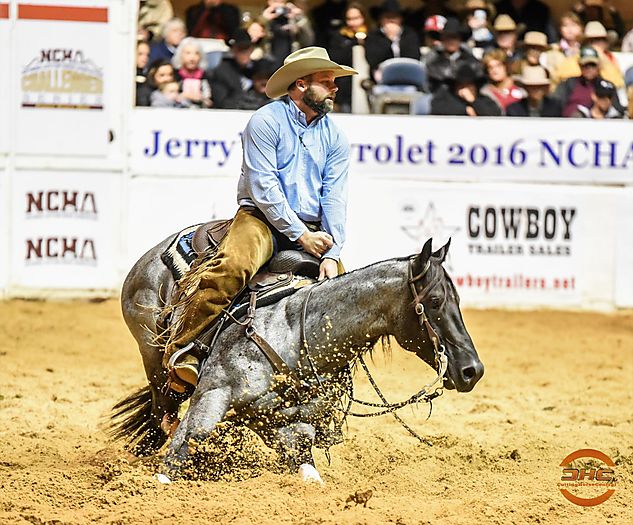 Tatum Rice
There really is not enough that can be said about this group of riders. This sport has many variables and to put things all together enough times to have accumulated the money that they have at such a young age is nothing short of unbelievable. Reaching the million-dollar mark takes such dedication, but to achieve it in Open money in the intense competition that we have today demands a difficult lifestyle. This group has made it! They put in the time and the work and made the impossible possible, and for that we commend you all! Here's to the next million!
.