NCHA Director of Judges - Russell McCord Retires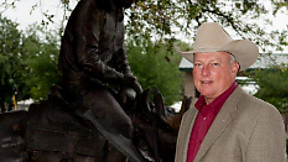 Russell McCord, who has been the National Cutting Horse Association (NCHA) Director of Judges for the past 18 years, retires Friday, June 7, 2019. He has been an NCHA member since 1978 and started judging in 1985, and over his time involved as a judge, he has played a big part in making the sport what it is today.
Russell judged all of the major aged events including the NCHA Futurity multiple times! In 2000, he reached 430 judging credits, which was a record at that time.
Russell became the NCHA Assistant Director of Judges in 2001 and became the NCHA Director of Judges in 2004. Since then, he has given seminars all over the world. He has been responsible for training and certifying NCHA Judges in the United States and abroad. Over his career, he has judged hundreds of thousands of runs, and he has made a big impact on the sport.
See the full interview with CHC and Russell McCord below to get more background and details about his journey with the cutting horse industry.
While Russell admits his retirement from the NCHA is bittersweet, he looks forward to dedicating more time to training and trialing Border Collies more extensively. Training dogs is something Russell has been passionate about throughout his life, and he will now be able to make a bigger commitment to that industry. He would also like to do some more traveling with his wife, Andi and just enjoy what this new chapter has to offer.
Russell and his wife, Andi.
He describes his time as the Director of Judges as both challenging and rewarding, and he is confident the rest of the NCHA Judges and Staff will continue to do a great job in his absence. He was sure to express his appreciation to all of the folks he has worked with along the way.
On behalf of everyone at Cutting Horse Central, we want to thank Russell for his years of service to this great industry. We know that all of the work and dedication he has invested in the sport will continue to show for years to come.
.