New NCHA Members Hall of Fame Inductees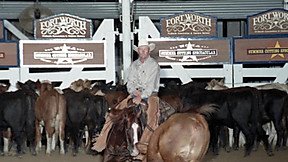 With the NCHA Convention coming up in just a few days, so comes the time to induct a new class of Hall of Fame members. When the NCHA Members Hall of Fame was started it was done so to:
"honor the individuals who have exhibited the characteristics set out herein; A high moral character; Good sportsmanship; Fairness; Extraordinary contribution of commitment to the Cutting Horses in the NCHA; and an exemplary contribution of time, effort, and interest in the NCHA and its basic endeavors."
This year, the NCHA Members Hall of Fame Class consists of four gentlemen who exemplify these very traits.
Mike Mowery is the son of Bill Mowery. Being the son of a cutting horse trainer, he loved it from a very young age. He grew up in Arizona and showed his first cutter in 1964 and showed in his first NCHA Futurity in 1974. Some of his favorite memories were made at the Sun Circuit in the 1970's and 80's. The show was held at a feed lot in Arizona and was always a big show. Mike said it was kind of like an annual meeting of friends at a really good cutting. Mike moved his family to Texas in 1982, and served on the NCHA Executive Committee during the 80's. He served as an NCHA officer for three years and then was NCHA President in 2005, along with spending countless hours on various committees. Mowery holds his NCHA judges card and is a AAAA judge. With this, he has judged some great cuttings including multiple Limited Aged Events. However, the highlight of Mike's career is winning the 1997 NCHA Futurity on Some Kinda Memories (which I thought was kind of neat that I have a granddaughter of hers). Mike gives his dad and Shorty Freeman credit for having the most influence on his training and showing career, stating that each of them contributed so much to his success. Today, Mike lives with his wife Michelle and daughter Taylor in Llano, Texas. He shows mainly at weekend shows. Taylor shows in the youth and you can catch his older daughter Megan Mowery Johnsrud at shows with her husband Chris and their sweet baby girl, Credence.
Mike and Michelle Mowery with their granddaughter, Credence.
David McDavid started riding cutters in the late 1950's as a teenager when he rode with the Calhoun family. In the early 1960's he owned halter horses which he showed and had others show as well. In 1960 he purchased the ranch that was contiguous to the place on which he had grown up and still owns today at Northlake and 720 in Weatherford, TX. As a volatile and vulnerable young man, David started with Terry Riddle where he learned the ins and outs of showing cutters. He says that he got his "under grad" on the old school Oklahoma and Texas style of cutting from Riddle. Then he went on to get his "Masters Degree" in cutting from Gary and Ron Gonsalves and acquired a little more of the California style of cutting and then earned his "PhD" when he hired Clint Allen to come to the ranch and create yet another learning curve from the Aussies. Much of his success is owed to the different trainers who have influenced his riding.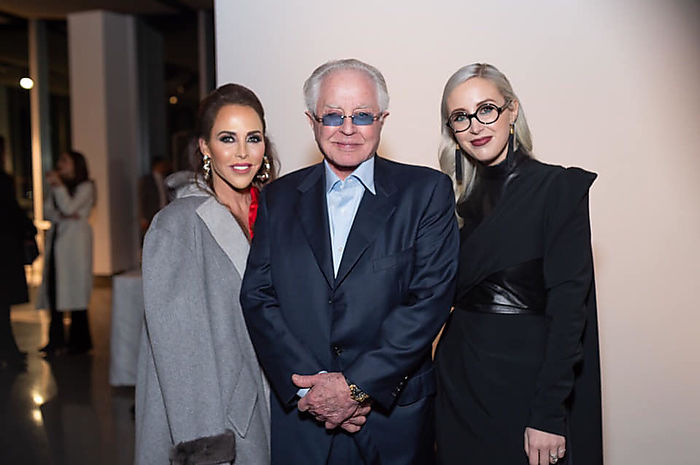 David is shown here with his wife Stacie (left) and daughter Sterling (right)
His favorite events were the Polo in Sheridan, WY. He enjoys when people are dedicated to putting on a cutting with unique prizes and experiences. David showed Shining Rings by Shining Sparks at the Polo one year and won a tooled saddle bags full of solid gold coins. They were so heavy he could not physically carry the bags. He has so many favorites and great memories. The Triple Crown Events are some of his favorites. "It's like cutting in your backyard." The friends that come and gather have become like family and David looks forward to each one every year. David and his wife Stacie are still very active in the NCHA showing in many LAE events across the country. Stacie herself is also a member of the NCHA Non Pro Rider Hall of Fame and the Texas Cowgirl Hall of Fame!
Jon White has been a cutting horse trainer for over 35 years. His involvement in the NCHA has been extensive. White has served as an Executive Board member, on the Professional Trainer's Committee, the Judges Rule Committee and several others. Jon has also held his NCHA judges card for over 20 years. His favorite show is the Houston Livestock Show and Rodeo, he has only missed one since 1976, and has quite a bit success there as well. His favorite horse is one that he showed named Shaboon; he was by Boon Bar and was just a tough solid horse that was one you could count on every time. Every person in his family has won money on Shaboon, and he will always hold a special place in his heart. Another mare Jon was quite fond of was Commanding Memories by Dun Commander. Jon said she was just one of those that was really special. White gives credit to Jack Newton for teaching him a lot about horsemanship along with Don Munn and Sam Wilson for getting him into cutting. Jon also noted that Jim Reno was another great influence in his career path.
Jon White
White says there is a lot to be learned and sometimes it is just as important to learn what not to do as it is to learn what to do. Jon has won many cuttings and had much success in the cutting pen, but perhaps is biggest and most proud accomplishments are his sons Jon and Justin. Jon H. White (Lil Jon) is a member of the NCHA Youth Hall of Fame and Justin is in the Non Pro Hall of Fame and is now busy making his mark in the cutting horse world as a trainer. Jon and his son Justin still spend their days at their ranch where Jon takes only a limited number of outside horses. Jon and his wife Ellen, who also shows in the non-pro, live in Chappell Hill, Texas at their Rocking W Ranch.
Lonnie Allsup grew up with his father being a horse and mule trader before he went into the car business. Lonnie began showing cutting horses as an owner and a rider in 1980, and over the years he became the epitome of an NCHA member. He credited his early years to Gary Ray and Ascencion Banuelos before he and Pete Branch made a team with which to be reckoned. Allsup found cutting to be a great escape from the daily duties of owning over 300 convenience stores. He admired the athleticism and intelligence of the cutting horse, and he just loved to be around them. One of his favorites was Little Badger Dulce, she and Pete Branch were reserve champions of the 1992 NCHA Futurity Open. In 1996, she was instrumental in Allsup's NCHA world champion non-pro title. Even though she was a favorite, Lonnie had many more great horses including the 2008 and 2010 World Champion Open horse Ms Peppy Cat. Yet another of his most notable horses is the famous Kit Kat Sugar. He was the 2012 NCHA Super Stakes Open Reserve Champion and the 2012 NCHA Horse of the Year with Pete Branch in the saddle. Mr. Allsup was very excited about Kit Kat Sugar and his future, not only in the show pen, but as a stallion. Lonnie Allsup served one term as the NCHA president in the 1990's. He was involved at every level of the NCHA from officer, to showman, to owner, and to breeder. He was inducted into the Non-Pro Hall of Fame in 2001. As well as his fame in the NCHA Lonnie is known for his hundreds of "Allsup's" gas stations in Texas and New Mexico. He and his wife Barbara lived in Clovis, New Mexico where Lonnie passed away in 2018.
Lonnie Allsup
We would like to congratulate these four men on their induction into the NCHA Members Hall of Fame. After researching and talking to them, I can honestly say that it is quite obvious why they were nominated and chosen to this high honor.
.