Justin Chalmers CHC Trainer Spotlight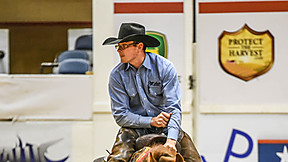 Justin Chalmers is one of the industry's fast up and coming top trainers having a number of standout horses in recent years. His work ethic and positive attitude help him through this tough sport and he continues to progress.
Justin has pretty much always had being a cutting horse trainer on his mind with only a couple of times straying from that goal. He worked with his dad, Paul Chalmers, who is also a trainer growing up on a day to day basis. He spent a month in college before realizing that, yes, training horses is the path he wanted to take. He also had a period of time that he spent working cattle on a large ranch something in which some people refer to as "cowboying". He loves that way of life and if he was not a trainer then that is probably what he would do for a living. As recent history has shown though, he made it back to his lifelong dream of training the amazing animals that we all know and love!
Several people influenced him in his journey, as mentioned his dad Paul Chalmers, Robert Rust, Tommy Dvorak, Sean Flynn, and John Mitchell are a few who stand out but there are always many that inspire along the way whether it be in the show pen, practice pen, or just business advice to help Justin forge his path.
The life of a cutting horse trainer is not an easy one but there are different things that keep them going day in and day out. It more often than not is the challenge of getting better, especially early on as an assistant trainer. Justin wanted to get better so that he could one day train his own horses, that was his big goal. Now that he has accomplished that task, he is driven by making each horse the best that they can be. He also went on to say that he truly loves his job and looks forward to working horses! It is a rarity this day and age to be able to enjoy your work so pursuing his dream and passion is enough to keep him always pushing forward.
There always seems to be certain horses that impact these trainers through their careers, and Justin has been lucky enough to have three already that standout to him. HC Herd Boss was one of the first horses he trained himself. He taught him a great deal about preparation because he might have him prepared perfectly but then not show well or vice versa. It was a lot of trial and error but that helped him prepare for the next two horses that we will mention. Hot Heels and Reystylin Smooth were both started from the beginning by Justin, then shown to much success with him aboard. They kick started his career being such standout individuals, and continue to be showing what an excellent job Justin did with their training. Even though these two were good horses, it was a challenge to help them be the best that they could be. It really shaped Justin, pushing him to be confident in his program.
This is one piece of advice that he can give to other trainers, be confident in your program and stay true to yourself. More often than not all trainers want to change things up at one point or another. When they see people doing other things that seem to be working for them, they want to stray from what works in their own program.
"Once you have formed your style just be confident in what you are doing. It might end up being wrong and you will fix that part over time but you have to believe in what you are doing and why you decided to do it."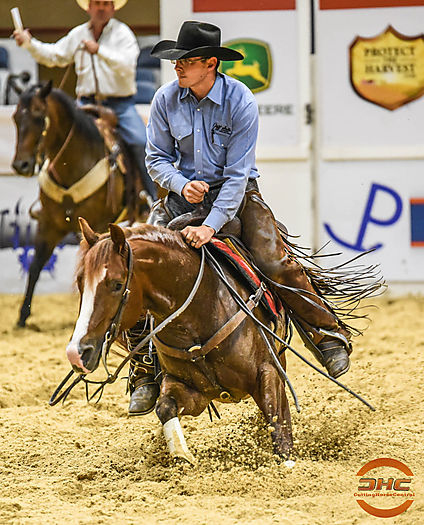 Justin and Reystylin Smooth
Other things that can keep these guys going are big moments that give you those goosebumps that hook everyone to the sport. Justin is lucky enough to have several. He has won a couple of Limited Division Championships in Fort Worth on both HC Herd Boss and Reystylin Smooth, and last year made the Open Derby Finals aboard Reystylin Smooth. Also, the first round of the NCHA Futurity riding Hot Heels was very standout for Justin. It was amazing doing so well on a horse he trained the very first time out.
Things continue to grow for this young cowboy and his family showing how his hard work is paying off! He recently moved to Steve Dee's ranch in south Texas and has nothing but wonderful things to say about his new opportunity. The Dee's are very encouraging and there is a huge cattle supply to train horses on. We look forward to seeing what the future holds for Justin but undoubtedly there will be more standout performers emerge from his program.
For more information about Justin check out his CHC trainer profile!
.