A Night for the Record Books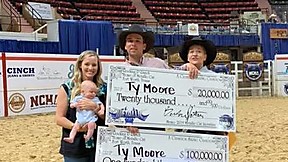 We had to borrow this photo from Ty for the cover of this article. It was just too perfect for the evening!
By: Lauren Middleton
With another Triple Crown event in Fort Worth coming to a close we have to reflect on what an amazing night it was last night at the Will Rogers. It was one of the best finals we have seen in recent years, and the Metallic Cat Incentive breathed new life into the show and all of the competitors!
Derby Non-Pro
The Derby Non-Pro Finals started out the evening where Nadine Payne claimed another victory on another horse that she and her husband James raised. She marked a 221 late in the first set aboard Blu Velvet (Once In A Blu Boon x Velvets Best Shot). She has been fortunate enough to have won a championship aboard two special babies out of their mare now, with the first being on Velvets Revolver. Once In A Blu Boon was also a huge part of their program launching them into their recent years of incredible success. This is only the beginning of the night shaping itself into one to remember for the Payne's. It goes further even, earlier in the show, Will Bushaw, who is the new owner of Velvets Revolver, won the Junior Youth Scholarship Cutting! There are several more babies coming up out of their mare, Nadine mentioned one by Catty Hawk that they are pretty partial to already.
Through the rounds Nadine and her mare put together some good runs but stayed safe to just advance. Once in the finals James asked her, "Are we staying safe today or are we cutting spicy cows?", she then in true Payne fashion, went with the spicy cows! The tough run was worth the risk resulting in a $17,521 Champion's check! As said before, this was only the beginning of this memorable evening for the Payne's.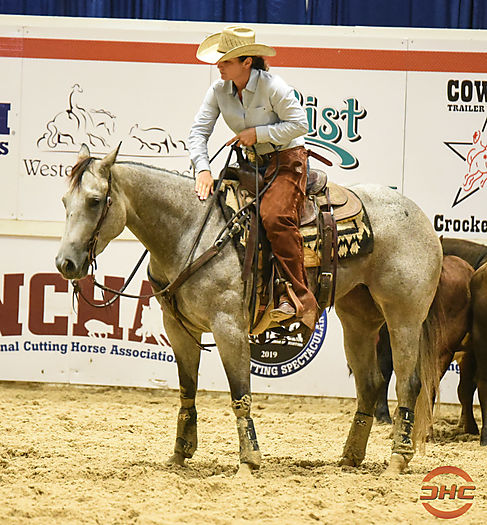 Nadine Payne and Blu Velvet
Video by: Video West Productions
Reserve Champion was Langston Pattillo marking a 220.5 riding his new horse Shesa Tuff Teaspoon (Woody Be Tuff x Shesa Spoonful Of Fun). The Pattillo's purchased this mare earlier in the show hoping the duo would hit it off, and they certainly did! They topped several of the rounds up until the finals then added a $15,832 check to their earnings for the Reserve title. This was Langston's second title during this show, with the first being on his great gelding High Stylin CD (High Brow CD x Stylin Playgirl). The Pattillo's sold this special gelding after the win but it seems that Langston has another great show horse coming up in this mare!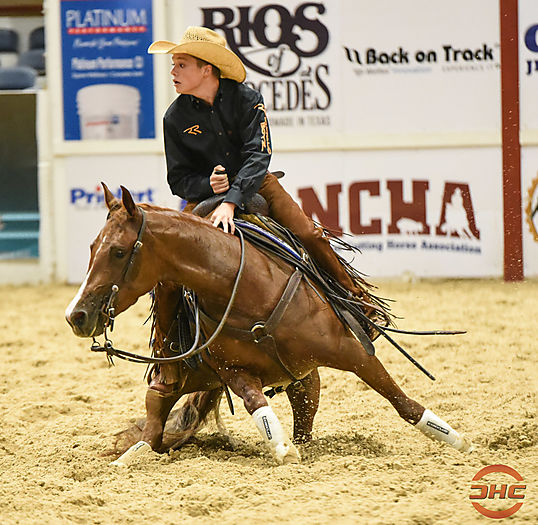 Langston Pattillo and Shesa Tuff Teaspoon
Third Place was Ty Moore marking a 220 riding Scantly Clad (Metallic Cat x Scoot A Lil Closer). These two have had a standout year already with this evening adding to their impressive accomplishments. They not only received the $14,144 third place check but also the Champion's check for the Metallic Cat incentive provided by owner of Metallic Cat, Bobby Patton. The impressive $20,000 check was only the start of what was to come for Ty yesterday evening as well!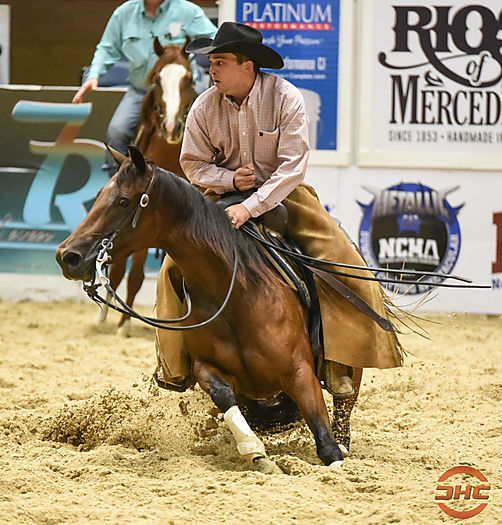 Ty Moore and Scantily Clad
Second Place in the Metallic Cat Incentive was Chad Bushaw riding Princess Problems (Metallic Cat x Sultress) marking a 213 to receive the generous $10,000 second place check.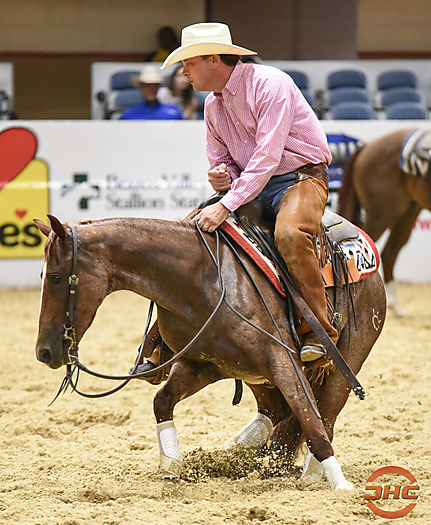 Chad Bushaw and Princess Problems
The Gelding Division Champion was Smoothest Ride (Smooth As A Cat x Zee Dually) ridden by Kyle Manion marking a 217.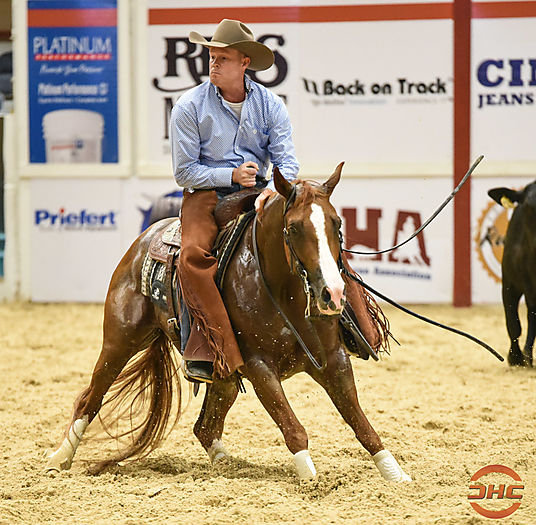 Kyle Manion and Smoothest Ride
Novice Division Champion was Driving Miss Em (Woody Be Tuff x Swing Thru The Drive) ridden by Ryan Rapp collecting a $2,539 check for the win!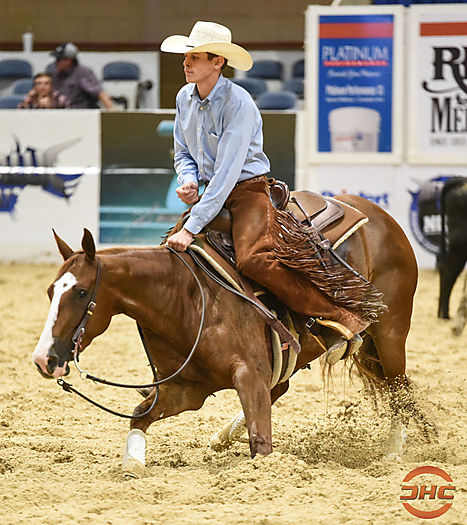 Ryan Rapp and Driving Miss Em

The Senior Division Champion was Stacie McDavid riding DMAC Martini Up (High Brow Cat x Stylish Martini) receiving a $2,272 check.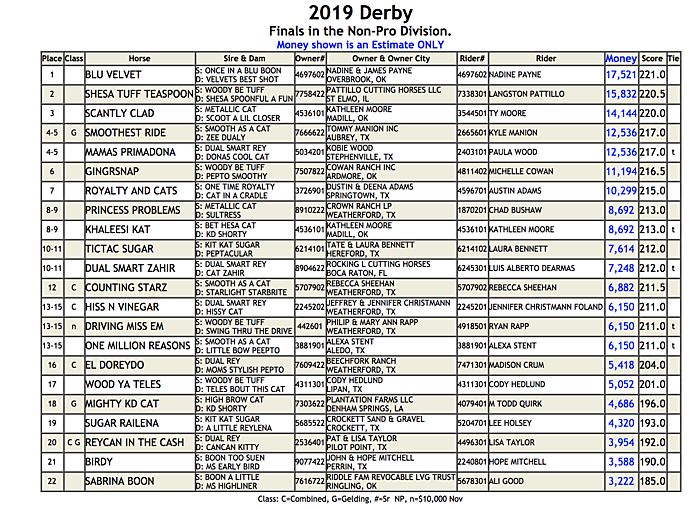 Derby Open
Next to go was the Open Derby Finals and again, it was one to remember. There was an extra bustle in the air because of the $100,000 Champion's check in the Metallic Cat Incentive on top of it already being the normal excitement of a major Open Derby finals in Fort Worth. There were eight Metallic Cat offspring in the finals eligible for the incentive, keeping us all on the edge of our seats.
Every horse and rider at this point could have won this event setting things up for an incredible finals if the cows would allow it. It turned out to be one of the best we have seen with so many going for the win along with the incentive. The fact that James Payne had a ride eligible for the incentive was a recipe for a run to remember. He is already one to go for it in the finals but this time was a little different. There was a lot on the table and he knew his mare was good enough to get it! She has been a favorite of James' but little things have happened that have kept them from a big win in Fort Worth. He went into the finals just wanting to not mess up in the midst of living on the edge for the big score, something that is pretty hard to do. If there is one person that can pull it off though, it is James! At the end of the fast paced run James and Summer Time Fun (Metallic Cat x Hey Georgie Girl), owned by Ty Moore, posted a huge 226 to take the lead! It was not until the second set that they were matched by RL Chartier and Caution Piping Hot (Hottish x Fort Worth Pipline), owned by the Anderson Cattle Company.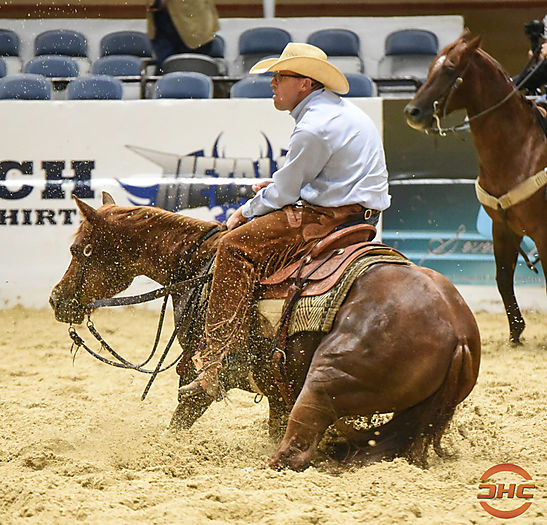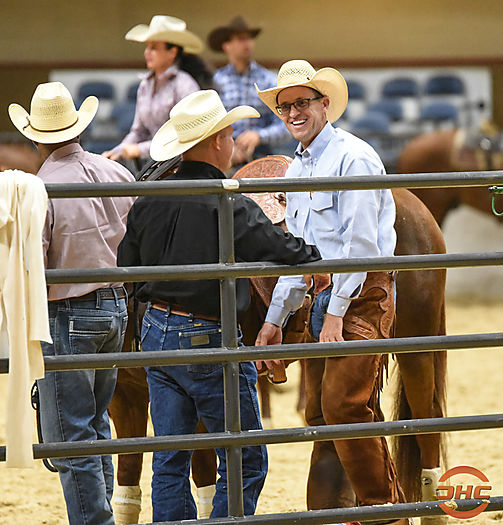 James Payne and Summer Time Fun
Video by: Video West Productions
The Anderson's purchased "Swimmer" right before this show began, but he has been a part of RL's program from the start. It has been a special turn of events for this barn in that RL also had a great deal of success riding this gelding's mom, Fort Worth Pipeline, in fact he was Reserve Champion on her in the Classic Open at the Summer Spectacular when in aged events. This Co-Championship was RL's first Open win in the Will Rogers but he has had numerous big runs finishing as a Limited Open Futurity Champion, and third place in the Open Futurity several times. He is another rider that we can always count on living on the edge and doing it well! He and this gelding's tough run resulted in their 226 run to tie with James. It was easy to have flashbacks of RL showing his mother during the run, something few are lucky enough to experience on this scale! Both RL and James received a $32,344 check for the win and Swimmer took home the Gelding Division Championship as well!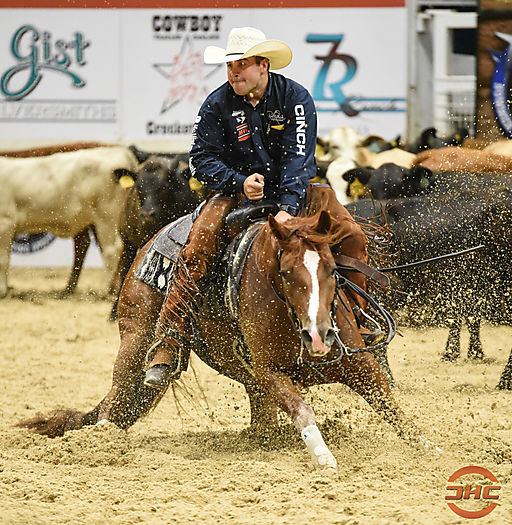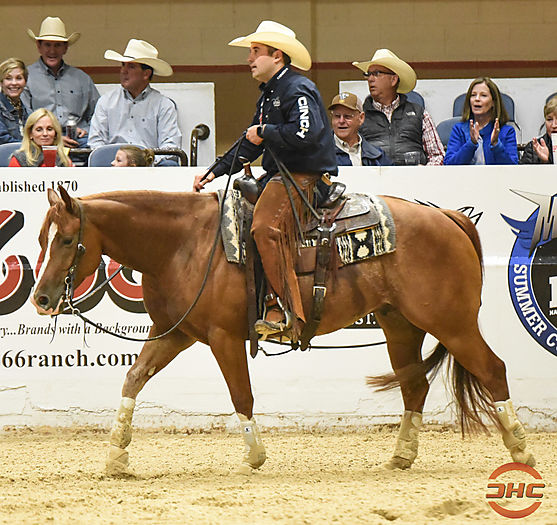 RL Chartier and Caution Piping Hot
Video by: Video West Productions
Third Place was Jody Galyean marking a 223 aboard Exs N Ohhs (Kit Kat Sugar x Reycy Moon), owned by Barker Cutting Horses. Their run was probably the most memorable of the evening with everyone behind Jody rooting for him and this mare who spent the majority of the run on her belly. It was one to give you goosebumps! They received a $26,147 check along with being the crowd favorite.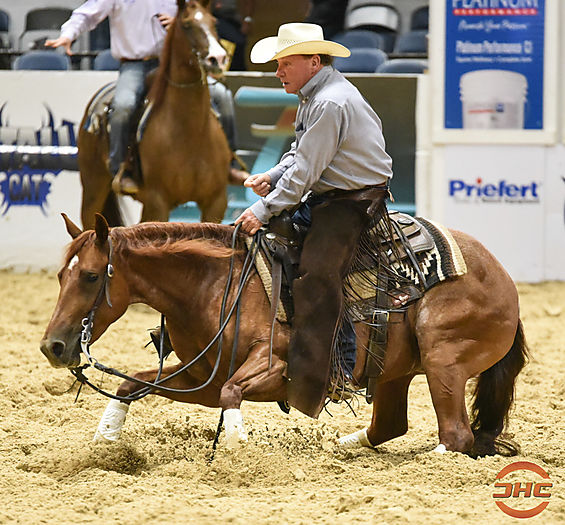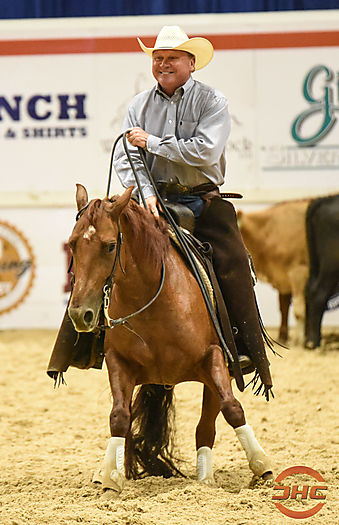 Jody Galyean and Exs N Ohhs
As said above the Metallic Cat Incentive was a huge part of the excitement for the evening. James and Summer Time Fun received the humbling $100,000 check again provided by Bobby Patton and Rocking P Ranch! Owner, Ty Moore, not only was the winner of the Non-Pro incentive money but also added this win to the night. A pretty unforgettable evening to say the least!
Second Place in the Incentive was Lloyd Cox and Slooow Ride (Metallic Cat x Sweet Shorty Lena), owned by Pat and Lisa Taylor, marking a 221 last out in the finals to claim the $40,000 check! This was added on to their $21,492 fifth place check. This put the stallion over the $100,000 mark in earnings already in his career!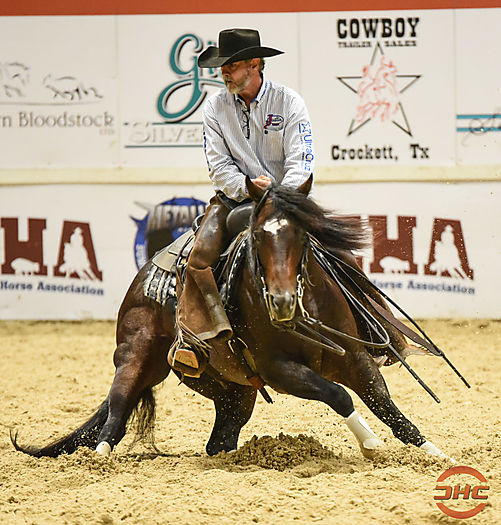 Lloyd Cox and Slooow Ride
The Novice Division Champion was SJR Kit D Vine (Kit Kat Sugar x Foxy D Vine), owned and ridden by Justin White receiving a $3,452 check.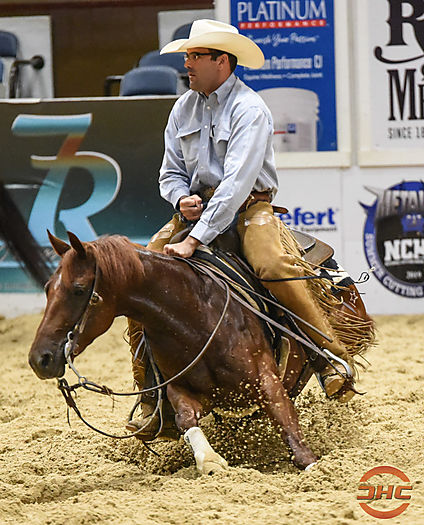 Justin White and SJR Kit D Vine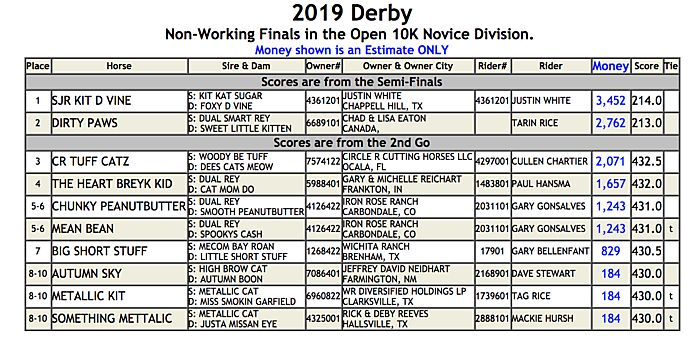 The Senior Division Champion was Glade Knight riding Big N Smooth (Smooth As A Cat x Moms Stylish Pepto) collecting a $1,604 check.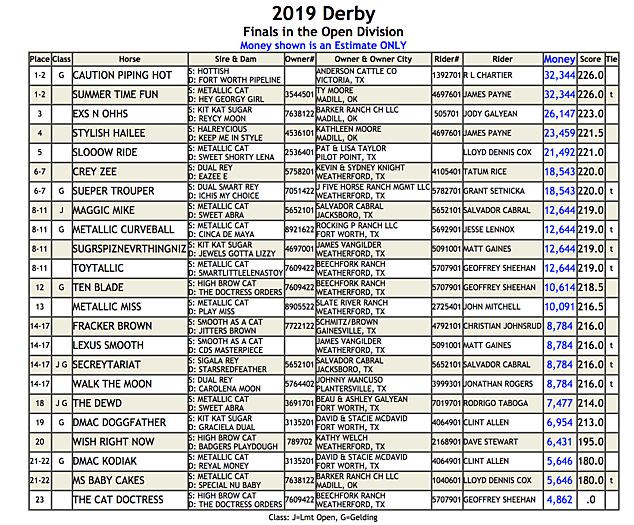 It is hard to say enough how truly memorable the evening was and all of the wonderful horses we were able to witness. We cannot thank Bobby Patton enough for his generosity and giving the opportunity to win this kind of money doing what we all love! It was as always, a great show with so many accomplishments by those that have worked so hard to get to the point of greatness in Fort Worth.
We have now turned the corner to small futurities leading up to the NCHA Futurity in November. It will be an exciting few months getting to see all of the new show horses coming into the show pen. Congratulations to all of the finalists and champions at the 2019 Metallic Cat NCHA Summer Spectacular and good luck to everyone as they head to the next show!
.