Open Championships Awarded at Cascades Futurity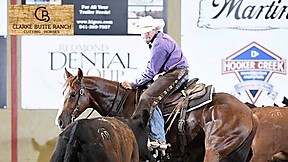 The 2nd Annual Cascades Futurity has a lot of appeal that draws people in. The rich history and beauty of Central Oregon, along with the local cattle and hospitality, are just a few reasons why people love to head out west for the event.
Just like last year, a big group of Open riders came out to the Cascades Futurity to make for some competitive and exciting finals. As Non Pro & Amateur entries are still coming in it looks like the show numbers are up quite significantly overall from last year which is great to see.
The Futurity Open brought a lot of anticipation, and Eric Wisehart was able to put together a solid performance on R Cat Mr Wilson, owned by Marvin Teixeira, to best the field.
Eric Wisehart & R Cat Mr Wilson • Photo by Scootemnshootem
After a solid run, they came out with a 219 to take home the Futurity Open Championship and a $10,000 check!
Video by: Video West Productions
Brent Erickson and Spookys Jackpot, owned by Jess Barnes, were not far behind after marking a 218.5! They earned the Reserve Championship and $8,472 for their performance!
Classic Open
In the 5/6-Year-Old Open finals, Russ Elrod made a big impression on Smart Metallic Jerri, who is owned by Boggess Revocable Trust. The pair marked an impressive 223 to take home the Championship, worth $5,500, along with the Gelding title!
Russ Elrod & Smart Metallic Jerri • Photo by Scootemnshootem
Video by: Video West Productions
Monty Buntin and Bet N On Billi Jo, owned by Kimberly Irons, as well as Travis Rempel, owned by Peter Knott, marked a 218 to share Co-Reserve honors. A Footrace was used to decide the winner of the awards which eventually went to Monty Buntin. Both teams took home $3,865 for their runs.
Derby Open
They say it sometimes just takes a little bit of momentum to get a good show going, and that definitely proved true for Monty Buntin, of Lincoln, California.
Hot off of his Co-Reserve Championship in the 5/6-Year-Old Open, he marked a 220 on Dual Cat Pepto, owned by Mike Flashman, to take home the Derby Open Championship, worth $6,000.
Monty Buntin & Dual Cat Pepto • Photo by Scootemnshootem
Monty picked up an additional $675.50 for the Gelding Championship, as well.
Video by: Video West Productions
As if earning the main win wasn't sweet enough, he also scored a 219 on Kimberly Irons' CR Rosie Tuff Stuff to take home the Reserve Championship and another $4,500.
Derby Intermediate Open
It is always exciting when a big score is marked! As the run builds and ends as strong as it started, the anticipation for the score to be revealed ends up being at an all time high.
When Brent Erickson laid down an incredible run in the Derby Intermediate Open finals aboard Hott Rox, owned by Dacole Investment Company, that feeling was obvious – and the pair was awarded with a 225, which is the highest score marked at the Cascades Futurity so far!