Hansma Horse Raffle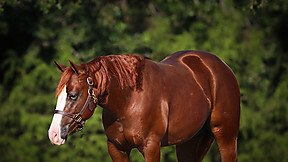 The cutting community is all about coming together during tough times to help the folks who need it most and it is at this time that we are calling on you to get involved with the Hansma Horse Raffle!
Julie Hansma, who is a great friend of the cutting horse industry, suffered a brain injury in late 2018 as a result from a sudden horse-riding accident. Following an extensive stay in various hospitals and rehab Centers and the excellent care from her doctors and nurses, she has now stabilized and is currently in the comfort of her own home.
Paul & Julie Hansma
While it is a blessing that she is able to be home surrounded by loved ones, there is quite a bit of care that is involved with her getting everything she needs. Horsemen For Christ & the Caring Cutters Fund are hosting the "Hansma Horse Drawing" in an effort to help Julie continue to receive all of the care she deserves!
Jenna Hunt has generously donated Mucho Caliente, a stunning yearling stallion to be raffled to raise money for the great Hansma family! This stallion is by one of the biggest sires right now, Hottish and out of the talented CD Lights mare, CD Pretty Baby. Anyone would be lucky to have a prospect like him, and he could potentially be yours!
Mucho Caliente
All donations of $100 or more will automatically be entered into the drawing (1 ticket for every $100, for example 5 tickets for $500). Donations under $100 will also be accepted but will NOT be entered in the draw. THERE IS NO LIMIT ON THE NUMBER OF TICKETS THAT CAN BE PURCHASED BY ONE INDIVIDUAL.
TO DONATE AND BE ENTERED IN THE RAFFLE:
• CARD DONATIONS: Click Here >> http://bit.ly/JulieHansmaHorseRaffle and select "Donate now" and fill out your name and email (This will allow us to enter you in the raffle)
• CHECK DONATIONS: Given to Cutting Horse Central staff or mailed to:
Horsemen For Christ
PO Box 9524
Wichita Falls, TX 76308
Make checks payable to "Horsemen For Christ" with the memo "Julie Hansma." Please still reach out through the contact info below so we don't miss your raffle entry.
• CASH DONATIONS: Text/call Mark Michels PH: 940.328.2550 or email Alex Taft: alex@cuttinghorsecentral.com with your contact info and total you would like to donate, and we will make payment arrangements with you.**
**Raffle tickets can also be given directly to Cutting Horse Central staff members at these upcoming shows - the El Rancho Futurity, Brazos Bash, NRCHA Snaffle Bit Futurity and the Southern Cutting Futurity prior to the draw!
100% of the proceeds will go to benefit Paul & Julie Hansma and are tax deductible.
Julie has always been one of the first to come to the aid of others, now it is our turn to go to her aid and help our Hansma's at home.
All donations are tax deductible. The drawing will end with a LIVE drawing after the 3YO Open Futurity Finals at the NCHA Southern Cutting Horse Futurity in Jackson, Mississippi!
.