Facts About The Leveled 2 Division Class Structure Proposal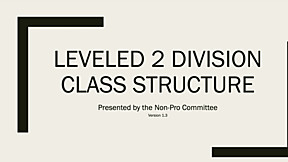 There has been a lot of discussion recently about the new "Leveled 2 Division Class Structure Proposal" that is being presented by the Non Pro Committee. Due to all the controversy and hype surrounding this proposal, much of it based on assumptions rather than facts, we thought we would break it down for you and give you some of the facts behind this proposal.
We are not taking sides on this we just want to make sure everyone understands the proposal.
First, we would also like to mention that discussion on this topic started back during the 2019 NCHA Convention and this proposal is merely a "Rough Draft" intended to be studied & "Vetted" by the Competition Committee before possibly sending to the EC Committee for consideration and possible testing.
THIS IS NOT intended to be voted on by the EC at this time, only to be presented to Competition Committee for review.
With changes in recent years to the Amateur & Unlimited Amateur divisions it is no secret that the Non Pro Division has suffered greatly and the "Amateur" now has million dollar riders competing against "True Beginner" level Amateurs.
Here are some facts about the new "Leveled 2 Division Class Structure" Proposal:
DIVISION 1 – All Open Riders. DIVISION 2 - Combine all NON OPEN Riders (Amateur & Non Pro) into one division with 5 proposed levels based on Lifetime Earnings.
This proposal does NOT do away with the Amateur or the Non Pro, it simply combines all these riders based on performance instead of exceptions and rules which are often very confusing.
This system is already being used by several other Associations including AQHA, NRCHA, NRHA and several more.
Proposed levels are based on current NCHA lifetime earnings of all (Non Pro/Amateur) members.
This will level the playing field and give each rider a chance to compete against other riders with similar earnings instead of family or marital status.
Simplify eligibility for classes and streamline not only entries and classes at shows but also the record keeping and data collection for standings etc.
The bottom two levels are "Entry Levels" and once a rider earns their way out of these two levels they CAN NOT "Roll Back" into these levels.
Entry Levels (1&2) would be run as a separate class. Top 3 levels would also run separately.
Anyone can "Enter UP" to levels above their level but not down.
This is expected to not only keep members showing longer with more equal competition but also encourage them to enter up to other levels when they have the confidence, horsepower or financial ability.
The current "ENTRY LEVEL" class at the Major LAE events is the $50,000 Amateur which along with age exceptions consists of many seasoned riders who have won hundreds of thousands of dollars competing against true beginners entering the sport.
The New Proposal would encourage people to come back and compete on a more level playing field and also encourage new riders to start competing who were previously intimidated to show in the Non Pro but were restricted due to work commitments or relationship to trainer etc.
The proposed "Revolving Door" allows riders who are competing in top levels to come back to compete in lower levels if they have taken a break due to family, work or health issues and have not won a significant amount of money recently.
The revolving door is currently based on Top 100 riders from previous year. Any rider not in the top 100 would be able to drop down a level as low as level 3 but NOT to "Entry Levels" (1&2).
The competition Committee would be tasked with recommending final earnings levels to structure the various levels based on current entry data.
"Simple is Easy". New class structure based on your actual ability in the show pen rather than who you are married to or the family you grew up in. Not all kids and spouses spend all their time at home horseback. Many family members have other interests or full time jobs and should not be classified the same as the families that lope, turnback and help trainers all day every day.
CLICK LINK TO SEE FULL PROPOSAL: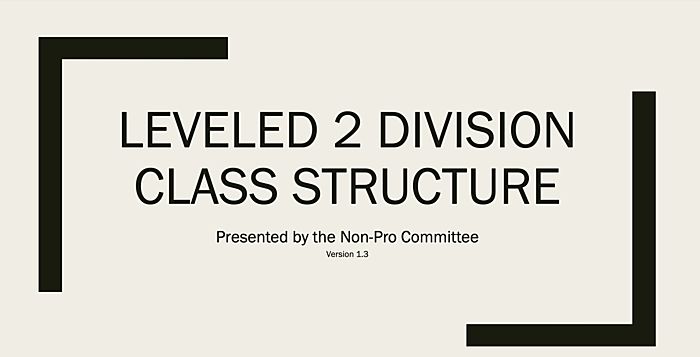 Section K Podcast Reviews the - Leveled 2 Division Class Structure Proposal
.