Enter the Amateur Benefit Clinic, Dinner & Dance For Julie!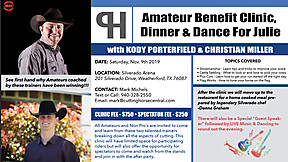 All Amateurs and Non Pro's are invited to come and learn from two of our great trainers, Kody Porterfield and Christian Miller - breaking down all the aspects of cutting. This is your opportunity to learn first hand why Amateurs and Non-Pros coached by these two have been winning and having so much success recently! They will be able to give you instruction on all aspects of cutting to improve your showmanship so you can start performing to the best of your ability as well!
This clinic will have limited space for participating riders but will also offer the opportunity for spectators to come and watch from the stands and join in with the after party. This will be a great educational clinic to benefit Julie Hansma! See the flyer below to learn more!
Clinic Fee - $750 • Spectator Fee - $250
Contact Mark Michels for more info. PH: 940.328.2550 or email: mark@cuttinghorsecentral.com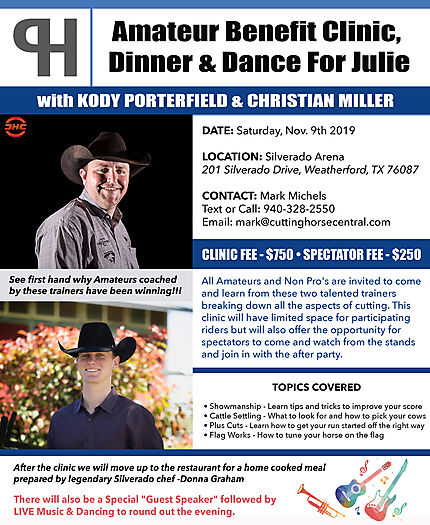 .
News