Making Dreams Come True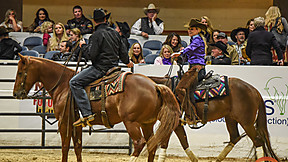 The competition has been fierce throughout the whole 2019 NCHA Futurity and the Amateur and Non-Pro classes have been no different. The scores required to get back to the Semi Finals then to the finals are some of the highest we have ever seen at the Futurity, showing that the horses, along with the riders are getting better and better.
Unlimited Amateur
In the Unlimited Amateur it was Traci Shehady showing her home-grown horse Once In Love (Once In A Blu Boon x Biscuit Love) marking a solid 217.5 that came out victorious. Traci has been showing many babies she has raised out of her amazing mare over the past several years, and finishing in the top of the pack time and time again. We have said before that there is an extra sense of accomplishment when showing a horse you have raised, seeing them from start to finish is so rewarding. This win added another $26,185 to the production record of Traci's great mare and kicked off her new show horse's career! Traci is always a standout competitor, but to win the Futurity is reaching a whole new level of achievements.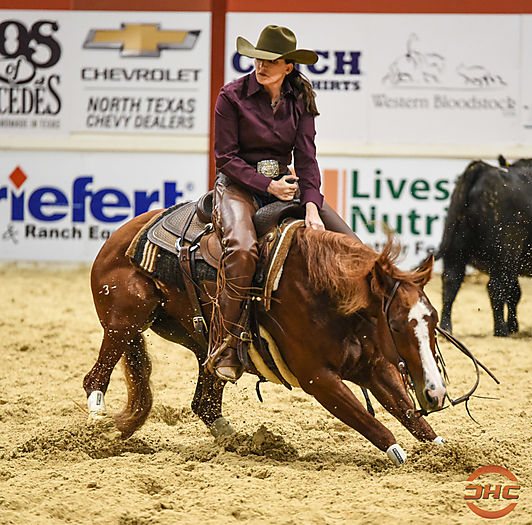 Traci Shehady and Once In Love
Reserve Champion was one of the younger riders in the finals this year, Regan Glenn marking a 217 riding Catalic (Metallic Cat x Justasassycat). Even though she was one of the younger competitors she did not look that way, she was calm cool and collected showing her horse, and it payed off in a big way. She not only made this finals, but also, the Amateur Finals. They collected a $23,283 check to go along with their earnings they already took home in the Amateur Finals! It was a show to remember for Regan!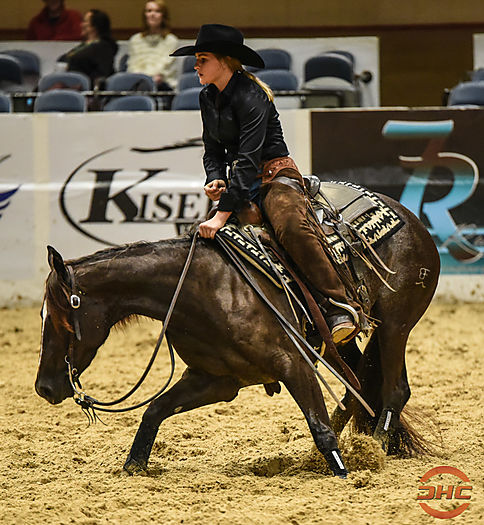 Regan Glenn and Catalic
Third Place was Bridget Trenary marking a 216.5 last out in the finals riding Ametallicmanda (Metallic Cat x Stylish Amanda). Bridget has had an amazing show as well with her other mare, Sugar Smak, winning the Limited Open Championship with Rodrigo Taboga and now also marking the Open Futurity Finals! This third-place finish added another $12,881 to her fantastic show!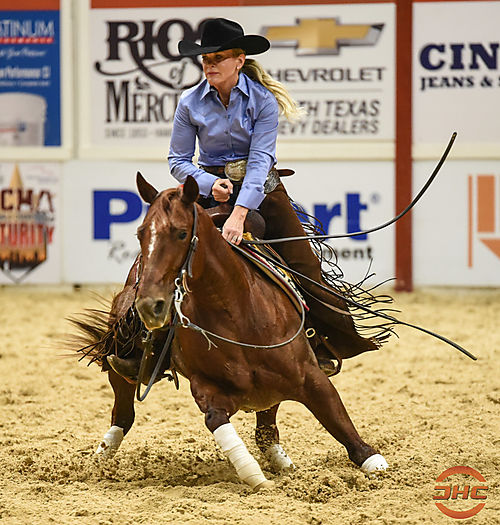 Bridget Trenary and Ametallicmanda
The Senior Division Champion was Mike Christiansen marking a 216 aboard Paradox Blue Rey (Once In A Blu Boon x Thimblerey), who also ended up as the Gelding Division Champion.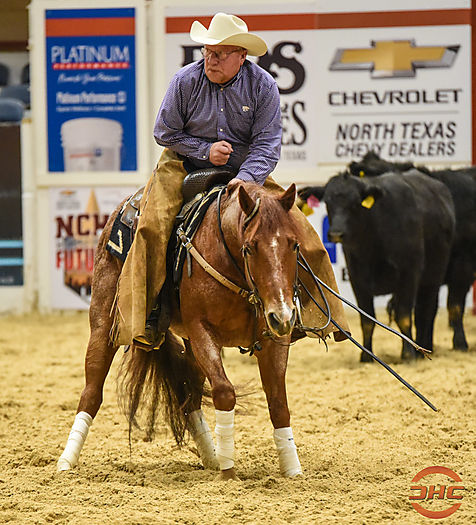 Mike Christiansen and Paradox Blue Rey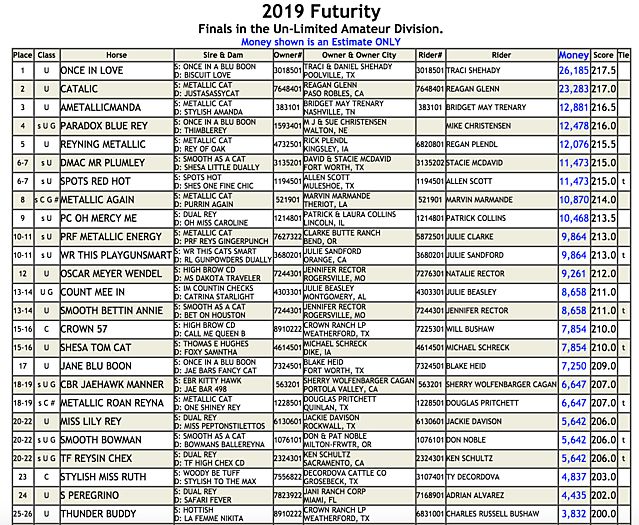 Non-Pro
The evening to remember for so many concluded with two sets of the Non-Pro finals. It was anyone's game after getting this far and most of our talented riders rode to win it! In the end we finished with a Co-Championship between Kristen Galyean riding Coureygous (Dual Rey x Highbrow Supercat) and Brandon Westfall riding I Reckon So (Kit Kat Sugar x Just As Reckless) both marking a 222! They each took home an substantial $52,672 check for the win and the coveted title of Non Pro Futurity Champion.
Both riders rode horses coming from a long line that have been special to them. Not only have they been special, but also, they have been some of our most famous families in our industry. Coureygous is one of many that Kristen's husband Wesley has trained out of the famous mare Highbrow Supercat. She herself was an Open Futurity Champion, and she has gone on to produced some unbelievable babies. It looks as though they are adding another one to the list with this mare. Kristen has been so close to this title before, and it is wonderful to see her hard work and perseverance come together to allow her to claim the Championship. She marked her 222 early in the first set, setting the bar for the riders after her. As always, she rode beautifully and her horse was perfectly prepared by this exceptional team. The Galyean's are a family to hold in high regard when talking about exceptional programs!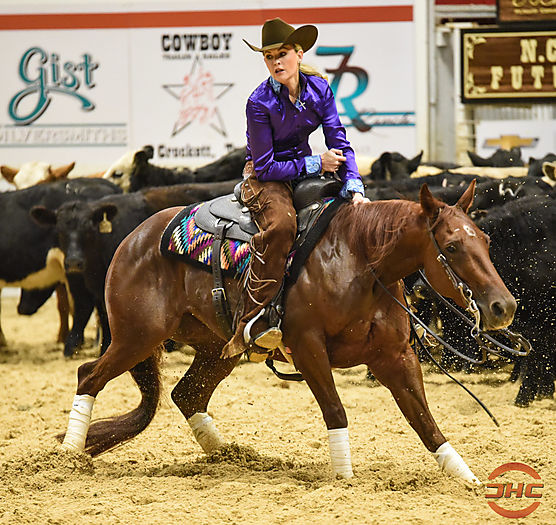 Kristen Galyean and Coureygous
Brandon's horse also came from an outstanding family. Just As Reckless is out of Trouble Lynn 495 who along with the Westfall's stallion CD Royal, built their impressive program. They come to the Futurity every year with siblings or offspring stemming from this standout family. Every single one of them wanting to do their jobs and rise to the occasion. Brandon takes full advantage of their talents, always presenting them in the best way possible. He has just the right amount of aggressiveness along with some finesse, he is one that is dedicated to the sport as well. If you ask him anything about history or genetics he will nine times out of ten know the answer. Riders like Brandon are easy to root for because his love of the sport is so evident at all times. Both he and Kristen received a $52,672 check for the win, a pretty impressive finish to their already amazing year.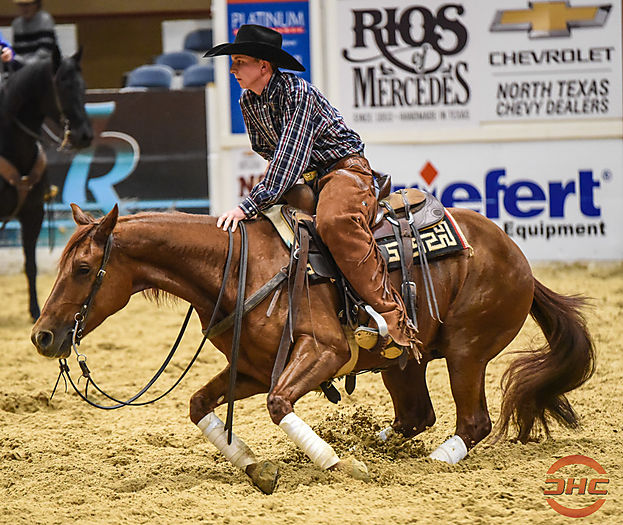 Brandon Westfall and I Reckon So
Brandon also finished third in the finals marking a 218.5 aboard Desires One And Only (One Time Pepto x Desire Some Freckles). This duo has been on fire the whole show topping the rounds in both the Open and the Non-Pro. Brandon also showed the gelding in the Open Semi Finals narrowly missing the finals. They have been consistent to say the least. They collected $37,726 to add to Brandon's already fantastic evening.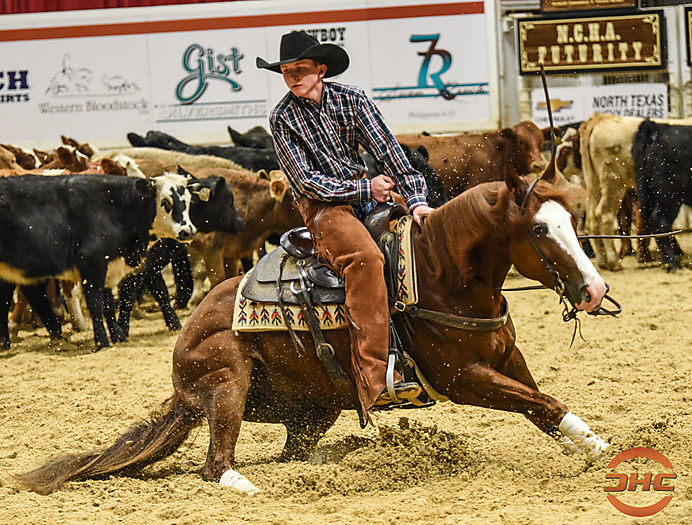 Brandon Westfall and Desires One And Only
The Gelding Division Champion was Lyin With Royalty (One Time Royalty x Teles Lies) ridden by Cody Hedlund marking a 215. This is another home bred horse out of a special group of horses for this family.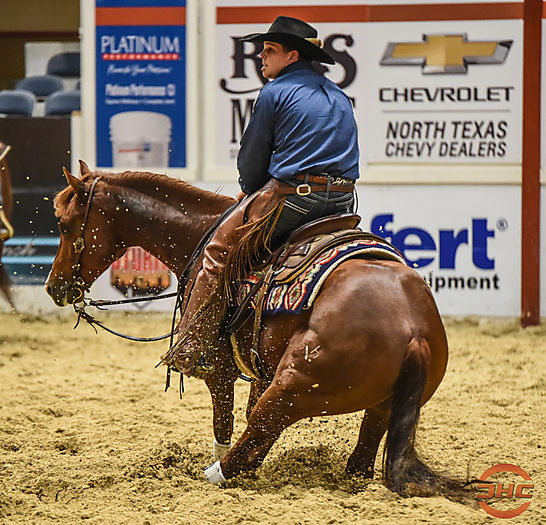 Cody Hedlund and Lyin With Royalty
The Senior Division Champion was Gail Hooper riding Mystical Metallic (Metallic Cat x Smart Lookin High Brow) marking a 212.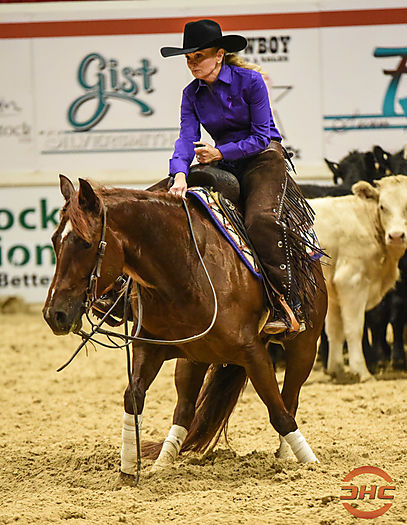 Gail Hooper and Mystical Metallic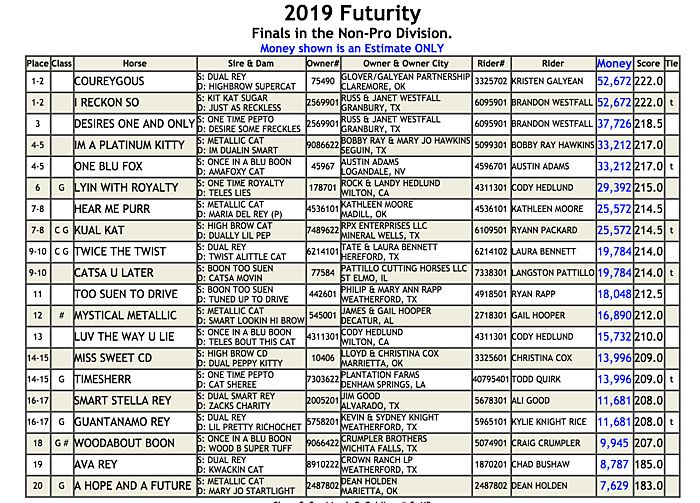 This show is always one that makes dreams come true for many of the dedicated riders in our industry and this year is no different. We have seen amazing runs and amazing horses throughout the show, and it all comes to a spectacular finale this evening at the Open Finals. We are looking forward to watching more history unfold today and we hope everyone tunes into the action if you cannot be at the Will Rogers this evening. It will be a finals you won't want to miss!
.