History Repeating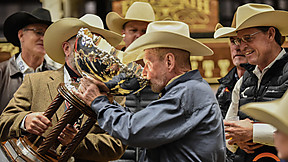 Written By: Lauren Middleton
Last night was an evening to remember in the sport of cutting. When Gary Bellenfant showed his standout stallion in the first round of the 2019 NCHA Futurity, he wowed us all marking a 225 to top the round. It was then that we all began rooting for the duo to win. There are so many variables that play into a Futurity win, making it hard to tell who will finish as the Champion. It also could have been anyone's game; it was a record-breaking show with it taking the highest scores we have ever seen to advance at this event. Open Semi-Finals night was unforgettable, and it was at that point when we knew who all had made it into the prestigious finals that everyone began to talk of who the winner could be, and again there was no consistent answer. With a field of competitors like we were to witness last night, everyone knew it would be a fantastic finals. It did not disappoint with each horse being great for their equally amazing riders.
Gary and Metallic Rey Mink (Metallic Cat x Dual Rey Mink), owned by Burt Bull, were third in the second set of the finals, and for the two horses before he went, he and his horse sat patiently waiting for their turn watching the cows. They were not dry working; they were not doing any other preparations; they did not even appear nervous, instead, they seemed to be confident and focused. Austin Shepard, one of Gary's herd helpers, was the rider before and added his thoughts on the cattle with other herd help Neil Roger after his run. Again, Gary was completely calm, looking stoic as ever, something that just is part of the man we have come to know in Gary Bellenfant. As he approached the herd in the beautiful roan stallion, the crowd in the Will Rogers held their breath, each person nervous, wanting him to succeed. He cut each cow perfectly, and the run continued to build, and at this point, no one was holding their breath, they were cheering as loud as they could for the legendary cowboy. When the buzzer sounded, and Tom Holt thanked Gary for his run, people began to stand until the entire arena was on its feet. There was not a dry eye to be found, nor a face not in awe of what just took place. There were still plenty of fantastic horses left to go, but no matter what we had just witnessed history.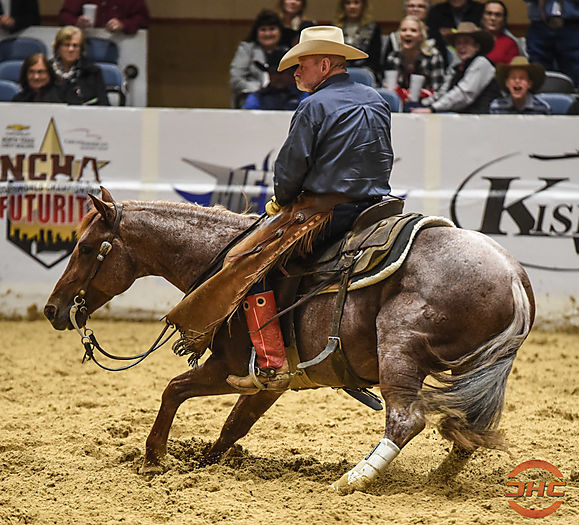 Gary and Metallic Rey Mink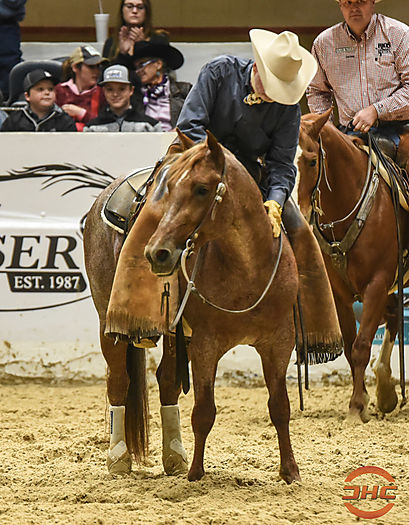 After their amazing run!
Watch the winning run thanks to - VideoWestPros.com
The stars aligned, and it turned out to be Gary's night taking home the 2019 NCHA Open Futurity Championship! It was meant to be! Following Gary's run, he said to his help, "Well, I think my horse was better this evening, much quicker on the cow, I was happy with him." Then fighting back the tears of their own, they explained to him that he marked a 226, and it was possible he just won the Futurity! Gary was just proud of his horse. When it was all said and done, everyone stayed to watch Gary receive his awards, including the iconic Buster Welch, one of the founders of our sport and five-time Open Futurity Champion, shook his hand and they talked a while. It was a moment in time when, indeed, a photo taken was worth a thousand words. Those two men have been a huge part of the rich history of our industry. Again there was not a single person not feeling the nostalgia or getting goosebumps watching everything unfold.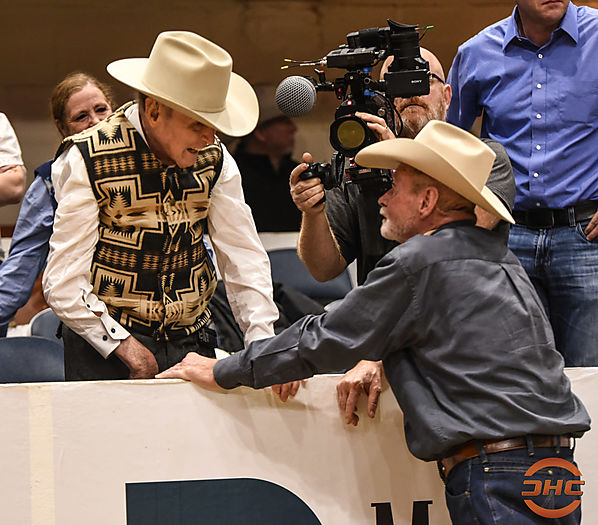 Gary Bellenfant and Buster Welch
While everyone else was fighting back the tears, and the overwhelming feeling to hug someone, Gary was cool as could be. He, of course, was happy and proud, but again like he had been there before. Being the 1995 Open Futurity Champion aboard Peptoboonsmal, one of the sires that have shaped our sport, he, in fact, has been in this same position before. Both wins have meant a great deal to him, but this one he said meant more. Gary said he felt as though the owner, Burt Bull, probably felt sorry for an old man and wanted to send him one more good horse, but he was grateful that they did! Gary said it has been different this time around as well, getting to spend as much time as he has on the horse rather than juggling over thirty like he once did. It certainly showed in the young stallion's exceptional training. He did not miss a beat, always looking like a pure cow horse. It helps to have an extraordinary individual, but you also have to cultivate their talents, which is exactly what Gary did. We can all learn something from this amazing trainer. Gary won $175,398 along with the Senior Division Championship pushing his earnings well over the 3million dollar mark!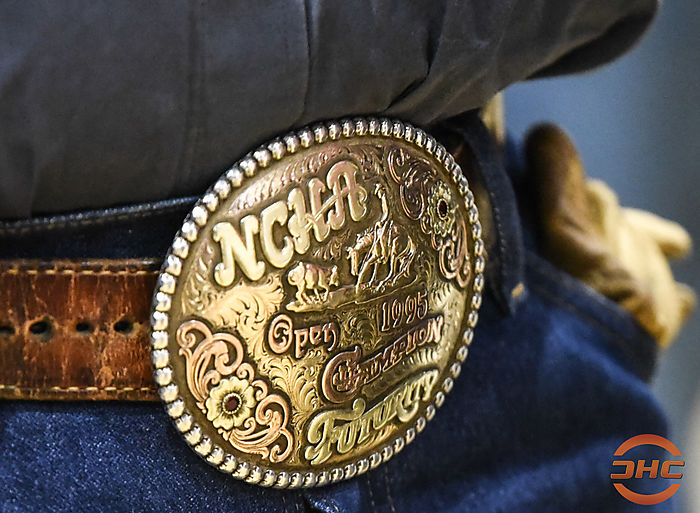 Gary's 1995 Open Futurity Champion buckle riding Peptoboonsmal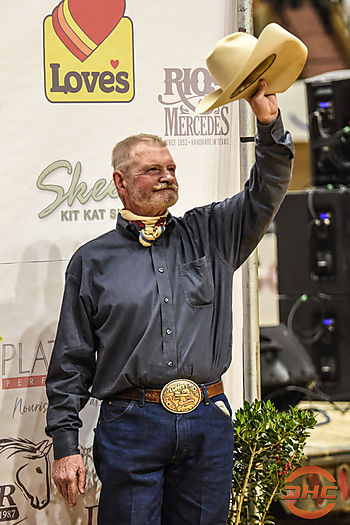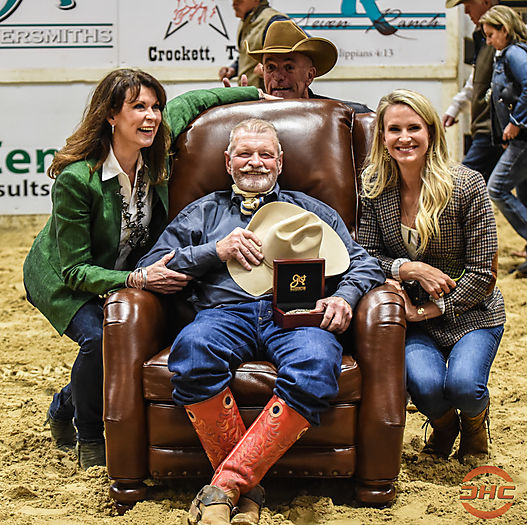 Sitting in his Brumbaugh's Furniture Recliner!
Another cool story that goes along with this special win is that Gabs Densley, who was the two-year-old trainer for Metallic Rey Mink came back from Australia to get him ready for the Futurity. The talented horsewoman had been working with Gary for the last five years and moved home in August of this year to start her training program based in Keith, South Australia. At Gary's request, she flew back to help Gary prepare the Champion Stallion, and the rest is history!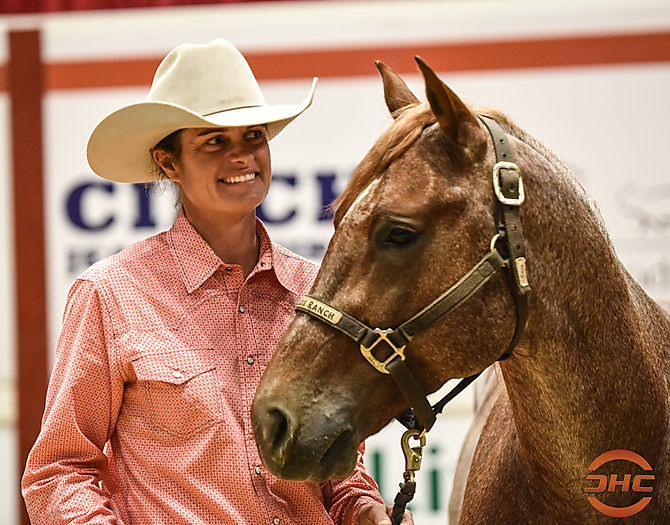 Gabs Densley and Metallic Rey Mink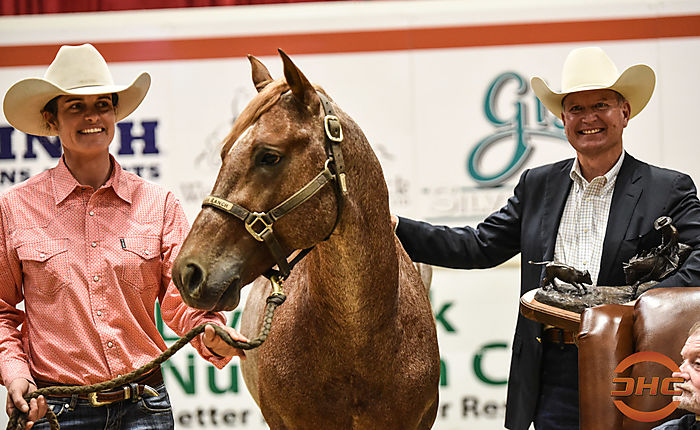 Gabs and owner Burt Bull the star of the show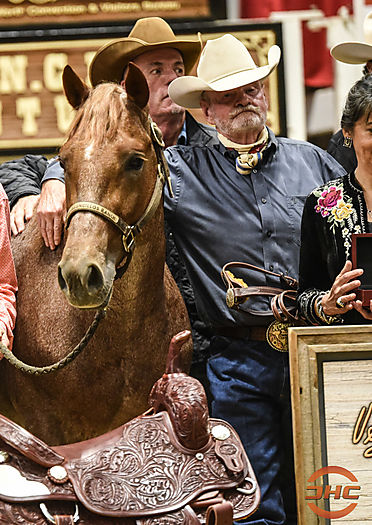 Reserve Champion was Adan Banuelos for the second year in a row! He started the cutting out being first in the first set, marking a 223 aboard Twice in Santiago (Once In A Blu Boon x Twice As Reycy), owned by The Double Dove Ranch. His run was nearly perfect with his mare trapping the cow with ease. She seemed to glide through her turns, drawing us all in. At this point in the night, we were full of anticipation, as was Adan, not knowing what the finals would bring. We could tell he was anxious, nervous, excited, all the things that come with showing in a finals of this magnitude. Once he cracked the herd, though, he looked calm and in control. His confidence in the show pen made the first draw position perfect for him. Adan set the bar high for everyone at that point, showing us all why he was the second-highest money-earning rider of the year this year! This title added $155,020 to the cause and one more thing for Adan to be thankful for at the close of 2019.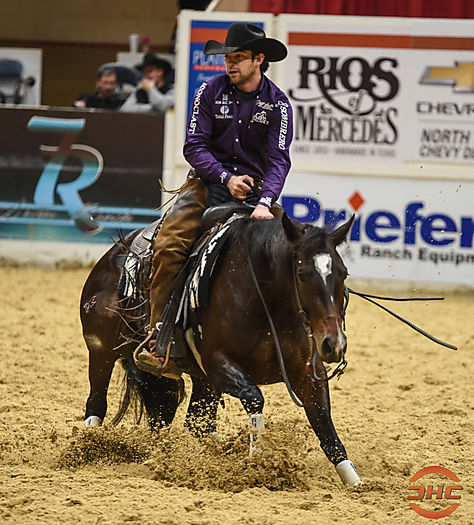 Adan Banuelos and Twice In Santiago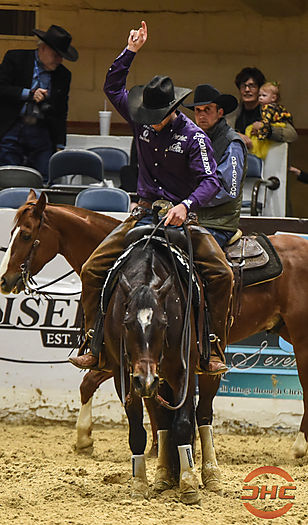 The night was not over for Adan at that point; he later in the first set had to help his uncle, Cookie Banuelos, through his run. The Banuelos family is very close, always going above and beyond for each other. They have all worked together to prepare for this show, and if one does not do well, they all do not do well. Like in many families, they share in their victories and also in their defeats. When it was Cookie's turn and the run built, the entire team involved with the Banuelos program erupted, and at the conclusion of the run, Cookie pointed to Adan sharing the success with him. It was a heartwarming moment, and we are sure that if Cookie had passed Adan in the standings, he would have been just as happy if not more excited for his uncle's success! Cookie marked a 220 aboard Hot Whittle Kitty (Hottish x Smart Whittle Kitty), a mare that he, his wife and her family had raised. He was one of the top contenders throughout the rounds, and the little mare's consistency paid off in a big way. Their $107,999 third-place check also ended their year on an exceptional note!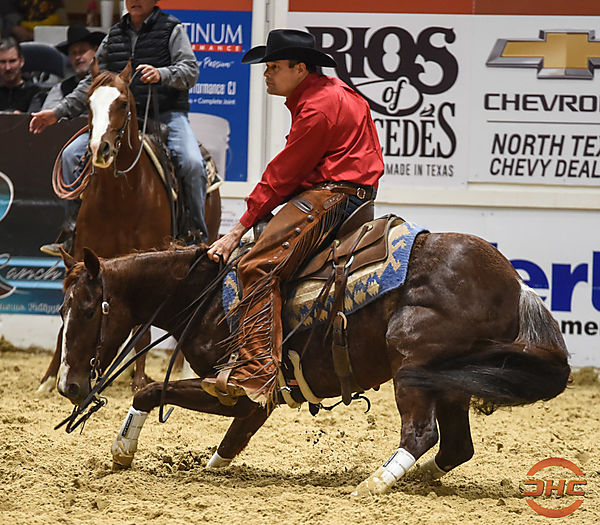 Cookie Banuelos and Hot Whittle Kitty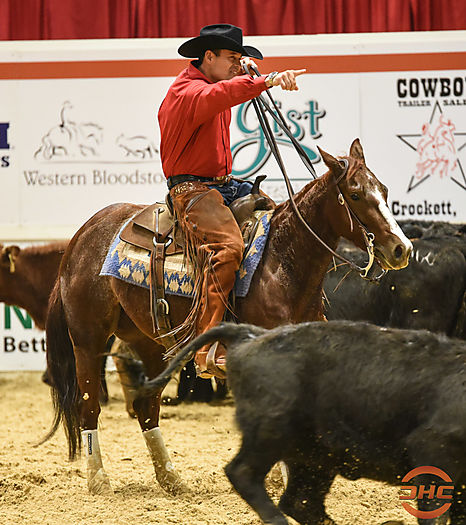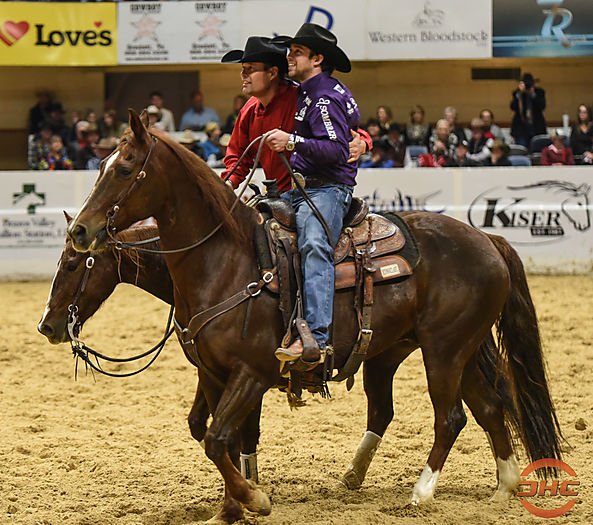 Geoffrey Sheehan, known to most as "Spud," also finish in third place marking a 220 aboard Pipe Bomb Dream (Metallic Cat x Sweet Abra), owned by the Beechfork Ranch. The beautiful mare was one of two horses that he qualified for the finals, a pretty amazing feat, to say the least! She was one of the favorites from start to finish, and rightfully so being from a royal bloodline in our industry. As always, Spud showed so well, and his training on both of his finalists was impeccable. His program that he and the family associated with Beechfork Ranch have built is second to none, with countless unbelievable performers produced. We are excited to see what the future has in store for his horses this year because it will be one remember! Spud also took home a $107,999 check along with another $42,900 for his tenth-place finish riding Nine Lives Left (High Brow Cat x Hicapep), who was also the Gelding Division Champion.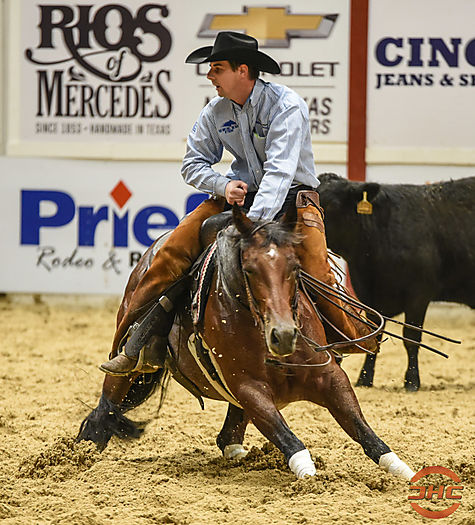 Geoffery Sheehan and Pipe Bomb Dream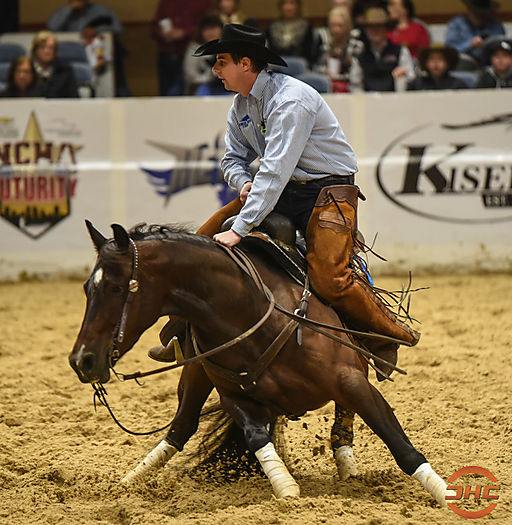 Geoffery Sheehan and Nine Lives Left
It is hard to put into words the feeling we all had last night. Open Futurity Finals night is always one that stirs incredible emotion, but last night there was just something else about it. The only word that seems to fit properly is epic. As a whole, we needed this; we needed a huge reset and something to remind us why we do this. There are many little miracles and successes that impact us and some big ones that increase the range of impact. This one impacted the entire sport. Incredible achievements in sports are always the ones that hit home if you are invested, and as a cutting family, we are all invested. Cutting leaves a lasting impression. If you have ever tried it, you are going to do it again! The feeling in the big house last night reminded us of what we work for and why we are involved in this crazy lifestyle. It is all worth it, and we are beyond blessed to be a part of it. As a group that promotes this wonderful sport, we are proud and humbled to do so, and we are refreshed to take on another year. Congratulations to all of the finalists and to our 2019 NCHA Open Futurity Champion, Gary Bellenfant.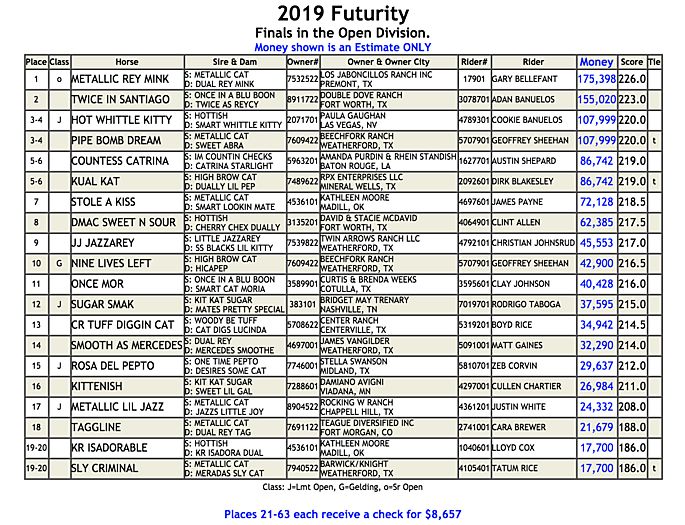 .