Tatum Rice Realizes a Dream as the 2018 NCHA Futurity Champion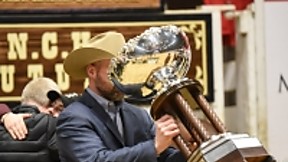 Author: Lauren Middleton

Tatum Rice and Crey Zee (Dual Rey x Eazee E) started out the finals with a bang marking a 222 which held on to the lead until the end making them the 2018 NCHA Open Futurity Champions! Tatum and "Reyn" had been a force to be reckoned with from the start of the show topping the first day of the show marking a 221. It has been an unforgettable show for Tatum!



Tatum Rice and Crey Zee



Crey Zee, owned by Kevin and Sydney Knight, started as part of the Rice Barn. She came by her name rightfully because she is a little on the high-strung side, but she has claimed a special place in the entire family's hearts. The Knight's, being Tatum's in-laws, have been involved in the young mare's career from the beginning. The whole family is very close knit, which makes it that much more special. It is truly a family affair between the Rice family and the Knights.




Winning the Futurity is a dream come true for any cutting horse trainer, and Tatum was fortunate enough to do it the same year he won the NCHA Open World Championship. It has been like this for the past two Futurity Champions, Matt Gaines and Austin Shepard. It goes to show that the experience that comes from hauling whether it be on the training side, showmanship, or just overall experience brings out the best in a cutting horse trainer. One of the things that means the most to Tatum about this win is that Reyn's mother, Eazee E, was very special to him. He was the Open Reserve World Champion last year on this great mare, but he knows that if he had the experience that he has now she would have accomplished so much more in her aged event career. It was obvious that she is proving herself as a producer was one of the most meaningful parts of the experience for him.



Tatum Rice and Crey Zee



Kylie and Reyn waiting for awards

Once the second set came to a close and it was time for his interviews, Tatum was still in a little bit of disbelief over the whole thing but was all smiles talking with Tim Smith. It was also an emotional moment when he and his wife Kylie were able to realize the dream that had come true for them! Their entire show had been full of moments that they will remember forever, and we are sure that this will be one of them. As if everything that came to pass over the past few weeks were not enough, but also Tatum surpassed the $2million dollar mark in NCHA Lifetime earnings. This made an extra sweet ending to their fairy tale story.



Tatum and Tim Smith Interviewing

Reserve Champion was Adan Banuelos who rode Badboonarising (Once In A Blu Boon x Show Biz Kitty), owned by Plantation Farms. The duo marked a 221 in the second set to claim their $161,539 check. This was a perfect end to an amazing year for Adan as he has been named the Open Rider of the Year with over $450,000 in earnings for the show season before the Futurity began. It has been quite the journey for this team. This is also a very close family and they are always very proud for one another's accomplishments. Their support for each other is always so inspiring.



Adan Banuelos and Badboonarising




Third place was split between Boyd Rice riding CR Tuff Taboo (Woody Be Tuff x Cats Boonolena) and Foster Johnson riding SF Hottish Lumi Cat (Hottish x Ima Phat Cat) both marking a 218.5 collecting $113,027 checks.



Boyd Rice and CR Tuff Taboo



Foster Johnson and SF Hottish Lumi Cat

After the finals was over, the awards were given and were followed by an after party largely organized by Christina Cox with the help of some other very appreciated ladies! The goal was to have something extra special for everyone to celebrate once the show finished. So many came together to make this year's futurity and festivities a reality that made it a fun end to the most meaningful show of the year! Joe Nicholes came to perform for us along with dinner being provided. It was a great night for all involved and we are grateful to that group of women for making it a reality. Also, thank you to the stallion owners who participated in the stallion auction to raise money for this event.



Tatum being recognized as the 2018 NCHA Futurity Champion at the party



All of the finalists getting to pop a bottle of Champagne at the party to celebrate!

It is hard to believe that the 2018 NCHA Futurity has already come and gone. It was a fantastic year for so many and also a year of learning. Thank you to all of those that are part of this sport we love and we are looking forward to the 2019 show season. Congratulations to all of the Champions and Finalists at this year's Futurity from all of us here at Cutting Horse Central!
.