2019 Augusta Futurity Wrap Up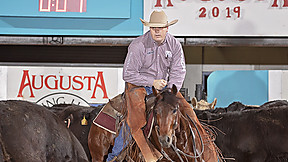 The 2019 Augusta Futurity was not just another year of this prestigious show. It was the 40th anniversary of competitors showing in the red sand surrounded by the blue walls! It is a signature of this show along with the southern hospitality and the playing of Dixie on finals night! There is quite a bit of nostalgia involved in this show, it is like going back in time. We think about the great horses and riders that have graced the James Brown Arena and cannot help but reminisce on the "Good Ole Days". This year made for more stories and wonderful memories for all involved.
Classic Amateur
In the Classic Unlimited Amateur, it was Jordan Vaughn who marked a 216 riding Juan In A Million (Spots Hot x Oh Miss Peacock) to take home the Championship and the $2,901 check. Jordan and "Bud" put together a solid run in a tough set of cattle looking confident all the while! These two have had a great deal of success in the past several months having claimed a Championship at the 2018 Southern Futurity along with be a finalist multiple times at several other shows.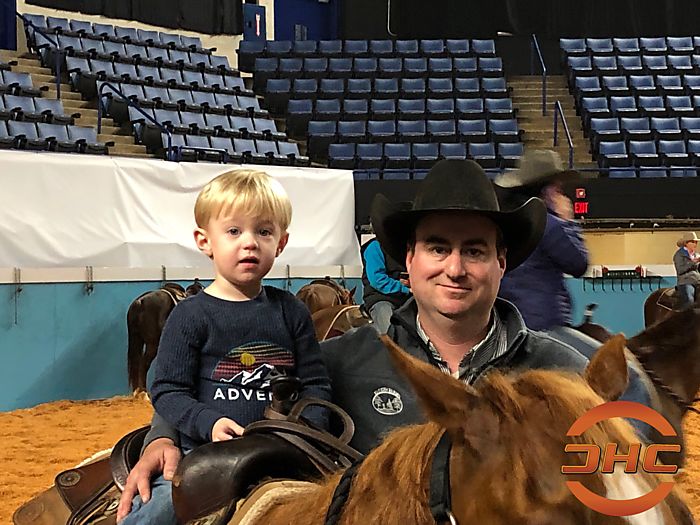 Jordan Vaughn and his son Reid
Reserve Champion was Sandra Lines riding Highest Of The Stars (High Brow CD) marking a 212 to collect the $2,400 Reserve Champion's check. They were also the $50,000 Classic Amateur Champions.

Derby Amateur
Julie Beasley and her great mare CR Dualin Out Tuff (Woody Be Tuff x ARC Catty Dual) marked a stellar 219 to claim the Derby Unlimited Amateur Championship and the $1,424 Champion's check. Julie just finished an exceptional show on this mare at the 2018 NCHA Futurity having made her first Non-Pro Futurity Finals among other successes.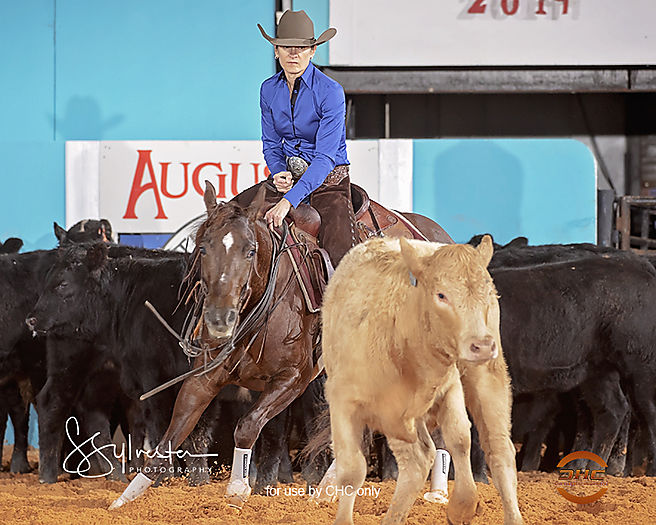 Julie Beasley and CR Dualin Out Tuff (Photo by S.Sylvester Photography)
Reserve Champion was Mark Senn marking a 213 aboard Bet Hesa Smart Cat (Bet Hesa Cat) taking home $1,200 along with the $50,000 Derby Amateur Championship as well!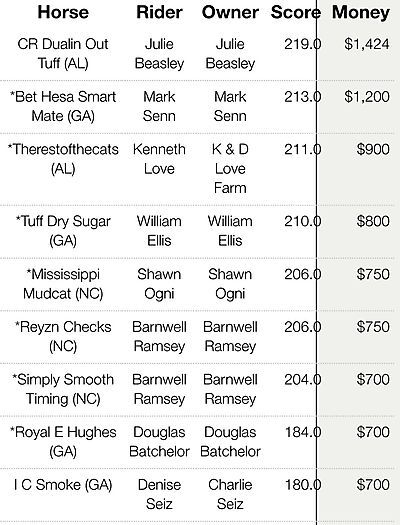 Classic Non Pro
The Classic Non-Pro Finals were next to go! It was Jody McGlothlin and her little mare Somethingtobelievein (Hydrive Cat x Playin T Etta) that finished on top! They mark a 222 to leave with the Championship and the $7,001 check. The duo also claimed the Limited Classic Non-Pro Championship. This mare is small but mighty having already claimed the 40 Open Reserve Championship the night before and qualifying for the Classic Open Finals as well with Jody's husband Brett. As said before, she has been a blessing for this family and continues to truly be "Something to believe in".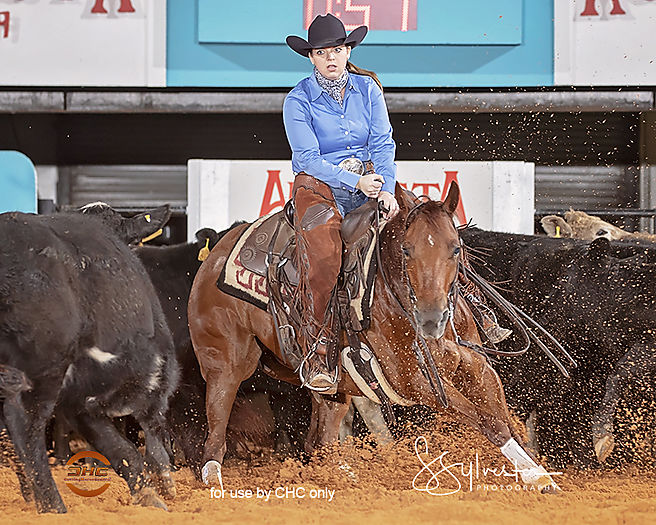 Jody McGlothlin and Somethingtobelievein (Photo By S. Sylvester Photography)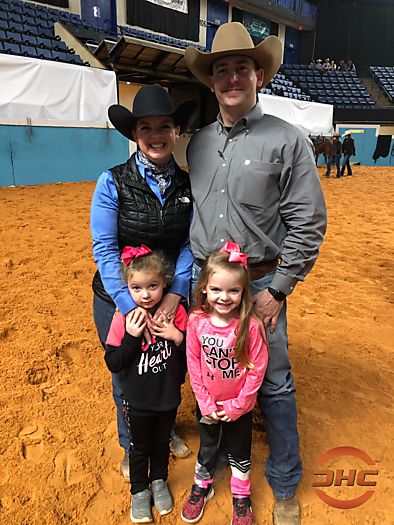 Jody, Brett, and their girls!
Reserve Champion was Jo Howard Williamson riding his new horse Hot Dawg (Hottish) marking a 215. They collected $6,100 along with the Gelding Division Championship.
The Senior Division Champion was Barnwell Ramsey marking a 213.5 riding Reyzurbetsonthiscat (Bet Hesa Cat).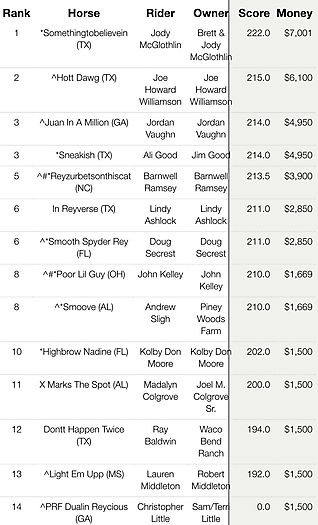 Classic Open
Local trainer, Walt Erwin, topped the Classic Open riding Willie J Rey (Dual Rey x Cat Black I), owned by Charlie and Denise Seiz, marking a 220. They took home $11,501 for the win along with the Gelding Division Championship! The Georgia Cutter knew how to get the job done that night and laid it all on the line. It paid off and resulted in a win for the home team. "Willie" had only been back in training for a week when the show started but as Denise told us, he is easy to keep going and loves his job. That was evident when asked to hold some tough cattle and do it in a stylish way!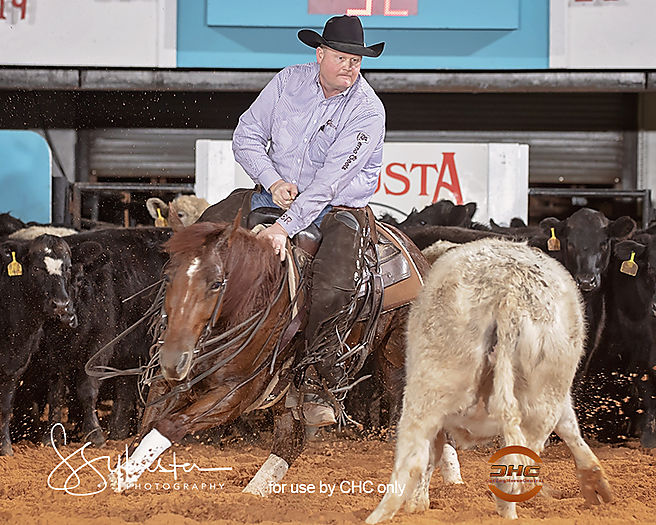 Walt Erwin and Willie J Rey (Photo by S. Sylvester Photography)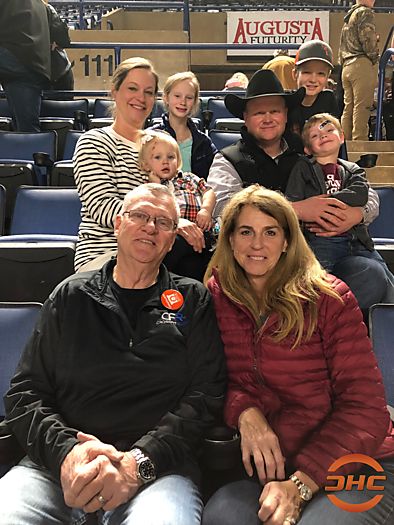 Walt, his family, and owners Charlie and Denise Seiz
Reserve Champion was Austin Shepard marking a 217 riding Tank Tallic (Metallic Cat), owned by Jan Newman. They received $9,500 for their efforts last in the set of finals.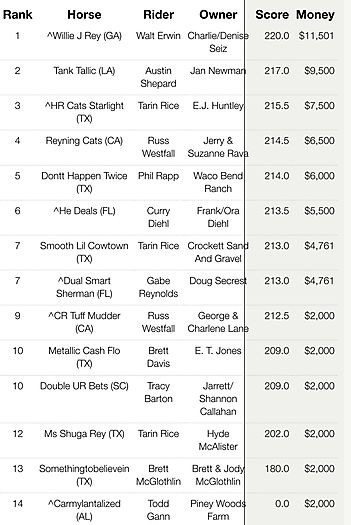 Derby Non Pro
In the Derby Non-Pro Cade Shepard and Lite Headed (Light N Lena x One Time Desire) were the stars of the show marking a 217 to claim the Championship. They received a $5,047 check along with an additional Stallion Incentive Championship. Cade showed this mare in small futurities this past fall making a couple of different finals on her but this was her first big win! Little did the Shepard's know this was only the start to their night to remember!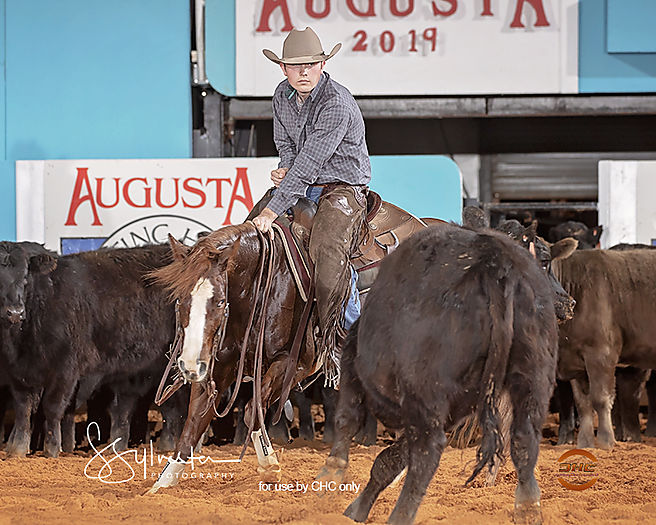 Cade Shepard and Lite Headed (Photo by S. Sylvester Photography)
Reserve Champion was Ali Good marking a 216.5 riding Sabrina Boon (Boon A Little x Ms Highliner), owned by the Riddle Farm Revocable Trust, collecting a $4,500 check. The duo also finished as the Reserve Champions of the Stallion Incentive and Champions of the Derby Limited Non-Pro.
The Senior Division Champion of the Derby Non-Pro was Mark Senn riding Olena Shes Metallic (Metallic Cat) marking a 210.
The Gelding Division Champion was Alamo (CD Royal x Trouble Lynn 495) ridden and owned by Janet Westfall marking a 210.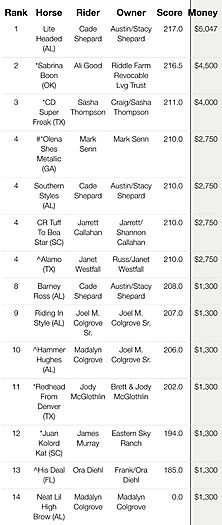 Derby Open
Last but not least, to round out the show was the Derby Open Finals! Austin Shepard showed everyone how it was done marking a huge 225 riding Bama Jelly (Bamacat x Wood She Be Neat), owned by Joel and Jayne Colgrove. It has been an amazing show for the Colgrove's and this just put a cherry on top of their fantastic week in Augusta. They received a $9,000 check along with the Stallion Incentive Championship!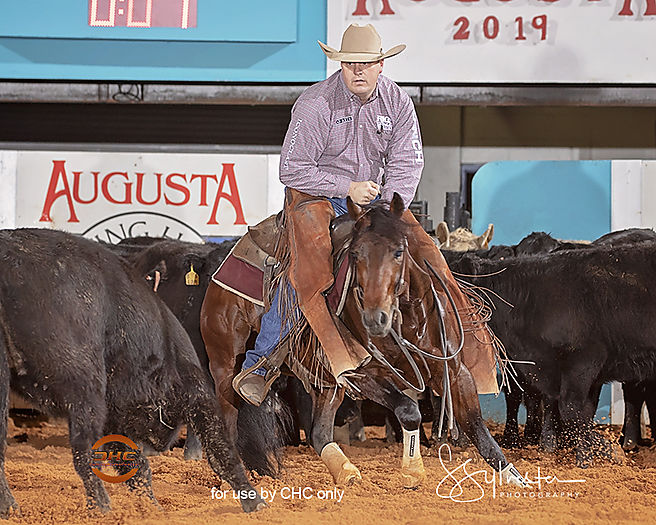 Austin Shepard and Bama Jelly (Photo by S. Sylvester Photography)
As if the two Championships for the evening were not enough, Reserve Champion in the Derby Open was Austin's dad Sam Shepard marking a 219 riding Barney Ross (Bamacat x Haidansmoke), owned by Austin and Stacy Shepard. They took home a $7,700 check along with the Gelding Division Championship and the Stallion Incentive Reserve Championship!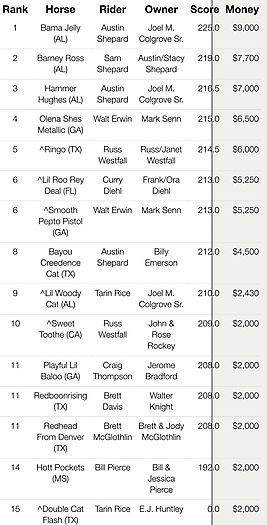 It was a show for the books for the Shepard crew but also for many others. We are thankful we were able to witness another fun year on the east coast and looking forward to many more to come! Next up for many is the Ike Derby and Classic. We look forward to seeing everyone there and once again congratulations to all of the Champions and Finalists at the 2019 Augusta Futurity from all of us here at Cutting Horse Central!
.