CHC Trainer Spotlight: Dusty Whitford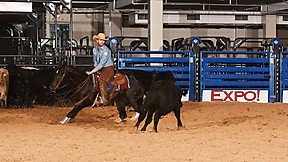 Dusty Whitford was hooked on cutters and cowhorses from a young age, but his ideologies about colt starting and horse training have grown and developed from more than just his time in the saddle. After spending half of his adult life serving in the U.S. Army National Guard, a steadfast work ethic and the desire to help others was further instilled in him. His horsemanship and those lessons he picked up through his time in the military helped shape the philosophy of Whitford Colt Company. Dusty has a passion for starting 2-year-olds and laying their foundation to kick start a successful career, and his commitment to helping veterans has become a prominent aspect of his program, as well. We took some time to catch up with Dusty to learn more about his unique background and how he is helping shape some of the great young ones in our industry.
How did you get into the cutting, and what do you like the most about it?
We never had a dime as kids, so we had to all learn to be little trainers from the get go. My mom owned a stud named Poco Fisty who was your typical all-around horse of the 70s. He could cut, show western pleasure and win at halter. He's one of my earliest memories. We moved out of Ellensburg, Washington, as kids to a place where cattle weren't available, but it stuck with me until I got out of the Army and I worked my way back in. I just love seeing 2-year-olds lock on to cattle and watch that progression as they slowly learn to take over.
You spent much of your life in the military. How has that helped shape you as a trainer?
The Army reinforced a belief in me that excuses don't matter, and hard work can and does beat talent. I work very hard while I pursue knowledge. But work ethic, I can control now.
Talk about your investment in helping fellow veterans cope with struggles they may be facing through horses.
Every military funeral I have been to has been due to suicide. I have been a homeless veteran. I do, and have experienced, the emotions that can come with being a soldier and then a veteran. Purpose is what we need as soldiers after separating from the military and horses can provide that. As my business grows, I can allocate more funds to employing homeless veterans part time and hopefully someday full time in a place where they can find some semblance of the purpose they had in service.
Dusty's time serving in the U.S. Army has played a critical role in shaping the philosophy of his colt starting business.
Much of your business is centered around setting cutting and cow horses up for success during the futurities. What is it that you love about giving horses that first foundation?
Two-year-olds are absolutely what I love. I love encouraging other people to go show their horse, and knowing my foundation helped get them there is really rewarding. I don't need my name in lights, so seeing a Non-Pro or a beginner be able to take my horse, go show it, and watch them light up with new confidence is what lights my fire.
Who has been your biggest influence or helped you the most as a trainer?
Oh gosh, this is a long list, so I will keep it to the trainers mostly. I worked for Bill Riddle and Don Pooley shortly and the Center Ranch where we trained the Woody Be Tuff 2-year-olds. When I moved back to Washington for a year is when that knowledge was translated for me by people like Randy Brooks, Diehl Hiner, Nina Lundgren, Tim Johnson and then the Wizard Terry Clifford and Jesse Lennox before the Futurity this last year. I hope I've done a good job of thanking these people.
Do you set goals for yourself based on where you are at in your career or is there just one big goal that drives you?
I set constant goals; daily, weekly, monthly etc. My biggest goals in the industry are to have some of the most sought after 2-year-olds in the nation and to someday be a Futurity finalist. But my biggest goal is to grow our lifestyle to raise my kids in and to bring new comers into our sport.
If you could give an outsider one reason to give cutting or cow horse a try, what would it be?
It's the biggest adrenaline rush in sports. It's so addicting, it should be illegal!
If you weren't training horses, what would you be doing?
I'd still be playing hockey trying to make the NHL. When I finally gave up and realized I'm 160 pounds, I would have continued on into the special forces and would have a career in the Army.
What is something that people might not know about you?
A lot, because I like to stay private! But I have had my charcoal western artwork commissioned at galleries. Half of my family are artists, and the other half are military.
What is one piece of advice you would give to other young trainers looking to make a career out of training cutters or cow horses?
It's hard! But if you go to your grave and they only rave about your abilities as a trainer and what you've won, you've missed the point. Be a man or woman of character who happens to train great horses.
To view Dusty's CHC Trainer Profile, click here!
.