Tarin Rice & Gotcha Haul for the World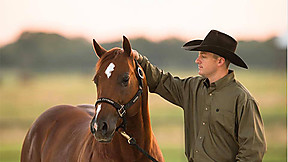 It's hard not to pay close attention when CR Gotcha Covered walks to the herd with Tarin Rice! With the stallion's stunning looks and undeniable talent, it's no wonder he has accumulated more than $250,000 in lifetime earnings thus far! This year, Tarin made the decision to haul "Gotcha" (Dualin Boon x The Catattac), owned by Joel Colgrove Sr, for the NCHA Open World Championship title, and the pair is currently leading the standings. We took some time to catch up with Tarin to discuss balancing the stallion's performance and breeding schedule and how life has been on the road with his family!
Tarin and CR Gotcha covered have amassed more than $250,000 together!
What made you want to haul this year?
I feel like CR Gotcha Covered has been a really good horse his whole life, and I have not won as much as thought I could've. I wanted to keep showing him to try to get him the exposure that I feel like he deserved.
Tell us about CR Gotcha Covered and what you like best about him.
I love how he is built. His conformation makes everything very easy for him. He is built exactly how performance horses are supposed to be. He is very low hocked with a big hip, short back and long neck. That makes everything easy.
Tarin believes Gotcha's conformation helps set him apart. • Photo by Cam Essick
What are the challenges of hauling during breeding season?
We are just now getting deep into it and so far it has been easy. Jeremy [Barwick] and the whole crew at BVSS has been great to deal with. His frozen semen is taking very well, so luckily we have that. He is making it easy, because he is not requiring a whole lot of work and John Wold being the stallion manager over there, he has trained a lot more horses than I ever have and a lot of stallions, so he is understanding. Having that frozen semen is allowing him to go a little bit farther away from home.
What have you enjoyed most about hauling so far?
I just like showing a good horse a lot that is a good seasoned horse. It is a confidence booster, and not having a lot of issues to work through is nice. You can focus on one horse and doing your job and knowing they are going to do theirs. It is helping me show the younger ones better I feel like.
You have two young kids, Charlie and Tell Candler (TC). How has it been balancing your show schedule and family life?
There is a lot of it that makes it a bit more challenging. Katie and Garret Hampton ride the horse most the time. Luckily we have a very good team in that. Garrett can get him ready if Katie doesn't, and Katie can if Garrett is not there. Evan Moffitt is the backbone of the whole thing. In Vegas, he watched Tell every time Katie got the stud ready. There are not a lot of people who would do that, especially not a 26-year-old guy. He just grabs him and goes and does whatever we need done. The whole crew is making it really good. But we are having a lot of fun. I went to San Antonio and showed in the Open only. We went around and took Charlie to museums and all sorts of fun stuff. We are also getting to make a lot of memories with them, as well. At the aged event you are there, and you help and have to watch cows for almost every set. You are with them, but you are also away from them. With the hauling, we are all right there and have a living quarters, so everything is close. You are getting a lot of togetherness. There is a lot of bonding.
Tarin and Gotcha have a special bond that is obvious when they show! • Photo by Platinum Performance
Have you picked up any hauling strategies from your brother, Tatum, or dad, Boyd, from their hauling success?
I hauled with dad when he showed Bobs Hickory Rio and showed in the youth a lot that year, but I was with dad most of the year getting Bob ready. I don't know that we have picked up any strategies as of right now but we are just hauling and going to the shows that have the most added money. Fortunately, we have done good at the ones that have that. The next couple of months, there are not many of those, so it will be a little bit tricky deciding which ones to go to and when to go. We still have a handful of aged event horses we are showing, so we are just trying to keep a balance for the customers who own the aged event horses and also for Joel and Gotcha. So far everyone is doing good with it.
Are there any shows you plan to go to this year that you haven't been to in the past?
I will probably go to Idaho and El Rancho. I have never been out there, and looking at everything now, we will probably have to go out there. We are also going to go to Calgary.